Rings are the one piece of jewellery most people are happy to wear! So if you're looking for a chunky hard wearing everyday ring, a set of matching wedding rings or an intricate ring for those special occasions, we can find something to suit. I could fill pages with various ring designs so below is just a small selection of stock and commissioned rings, so if you see something that's almost right, do contact me and I can mail you more images -or of course design something especially for you!
All ring designs can be repeated (except some commissioned pieces or if you specifically ask for your special design not to be repeated!) and made up in any metal, combination of metals or with the stone of your choice. Rings, including wedding rings, can be made custom made or made to your own design and made to any size.
Please visit New and Available Pieces to see and/or order current stock. This page is being updated so continue to check back.
Many rings in stock can be resized.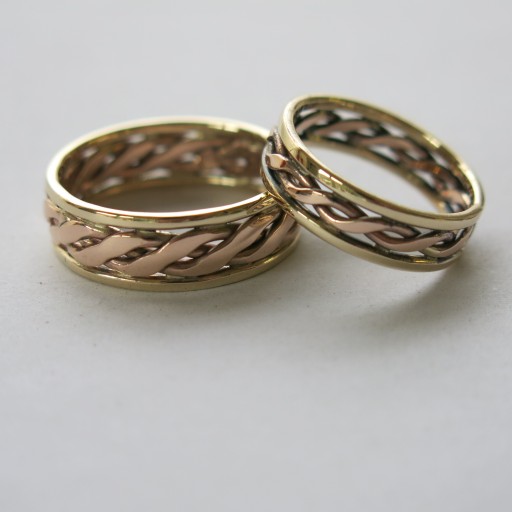 Gold twist rings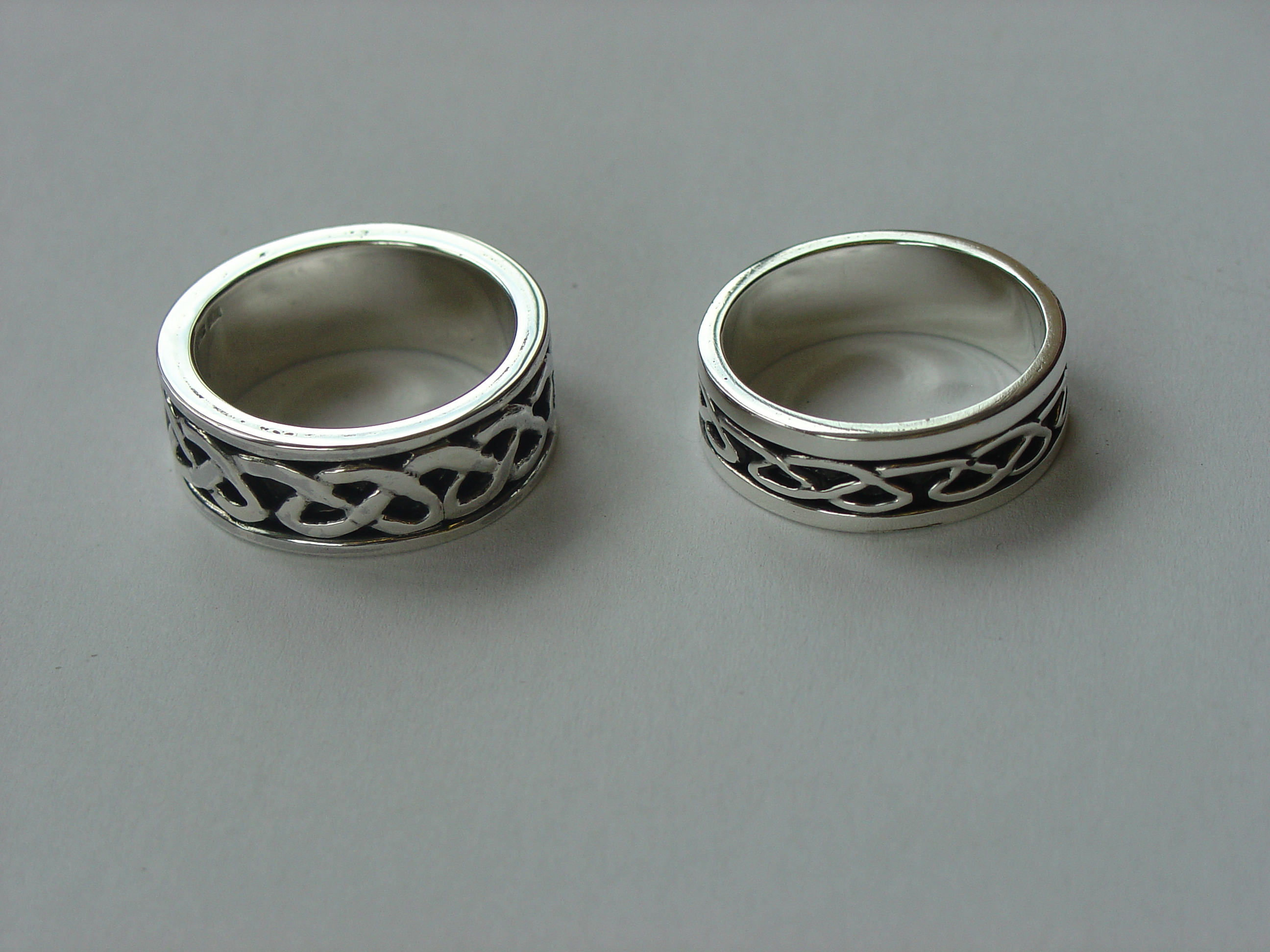 Silver bands with cut out knot work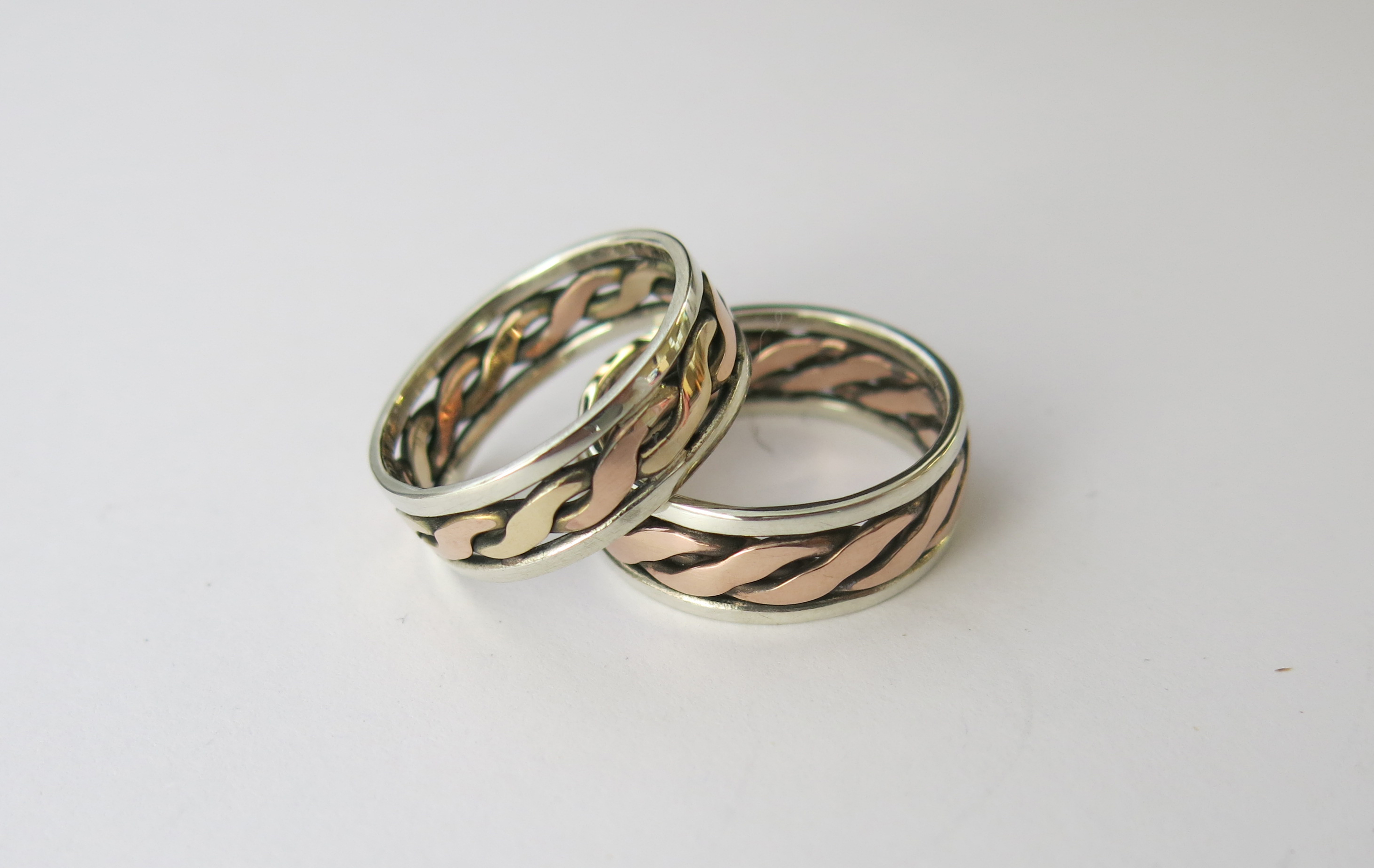 Gold twist rings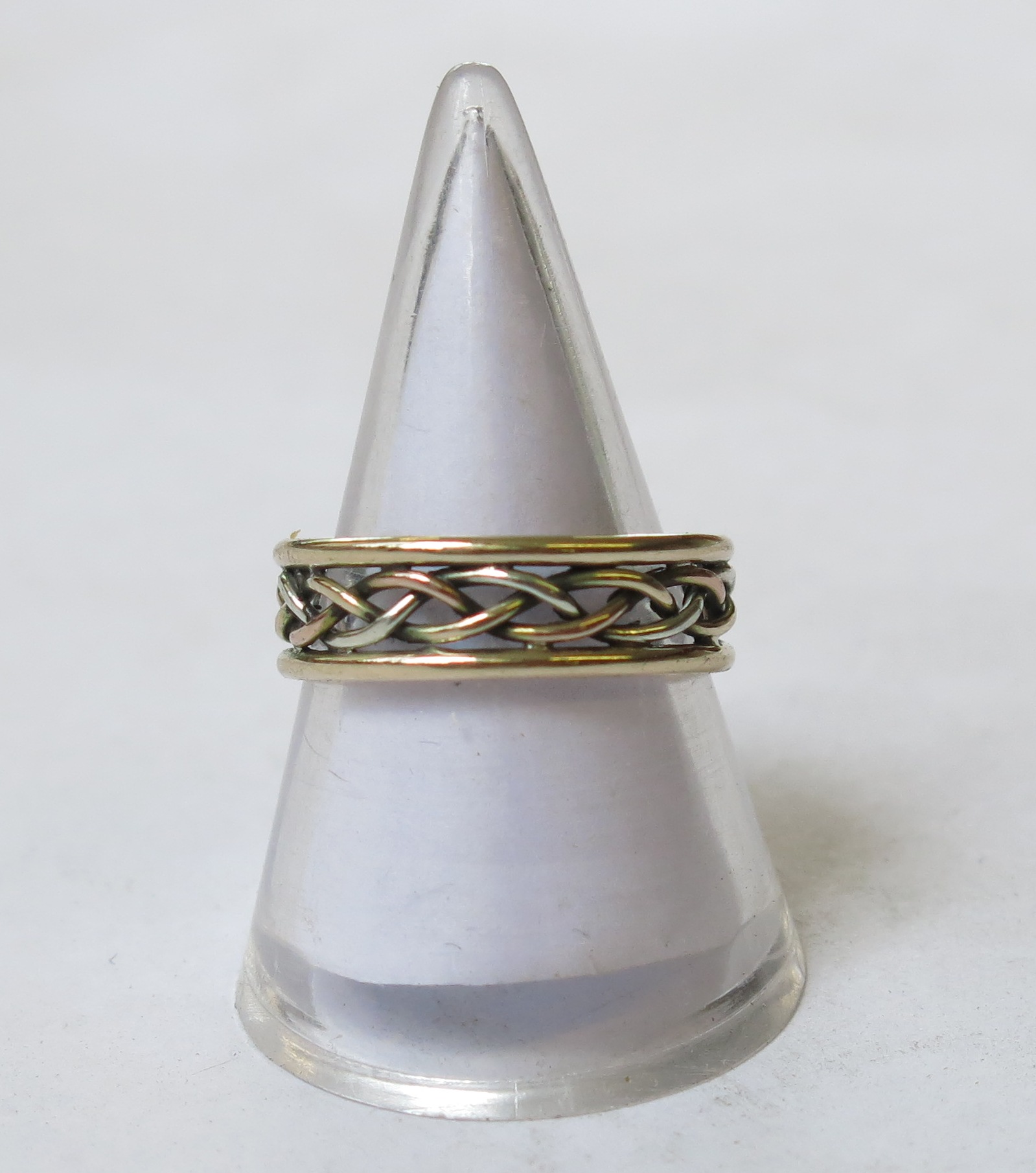 Three gold ring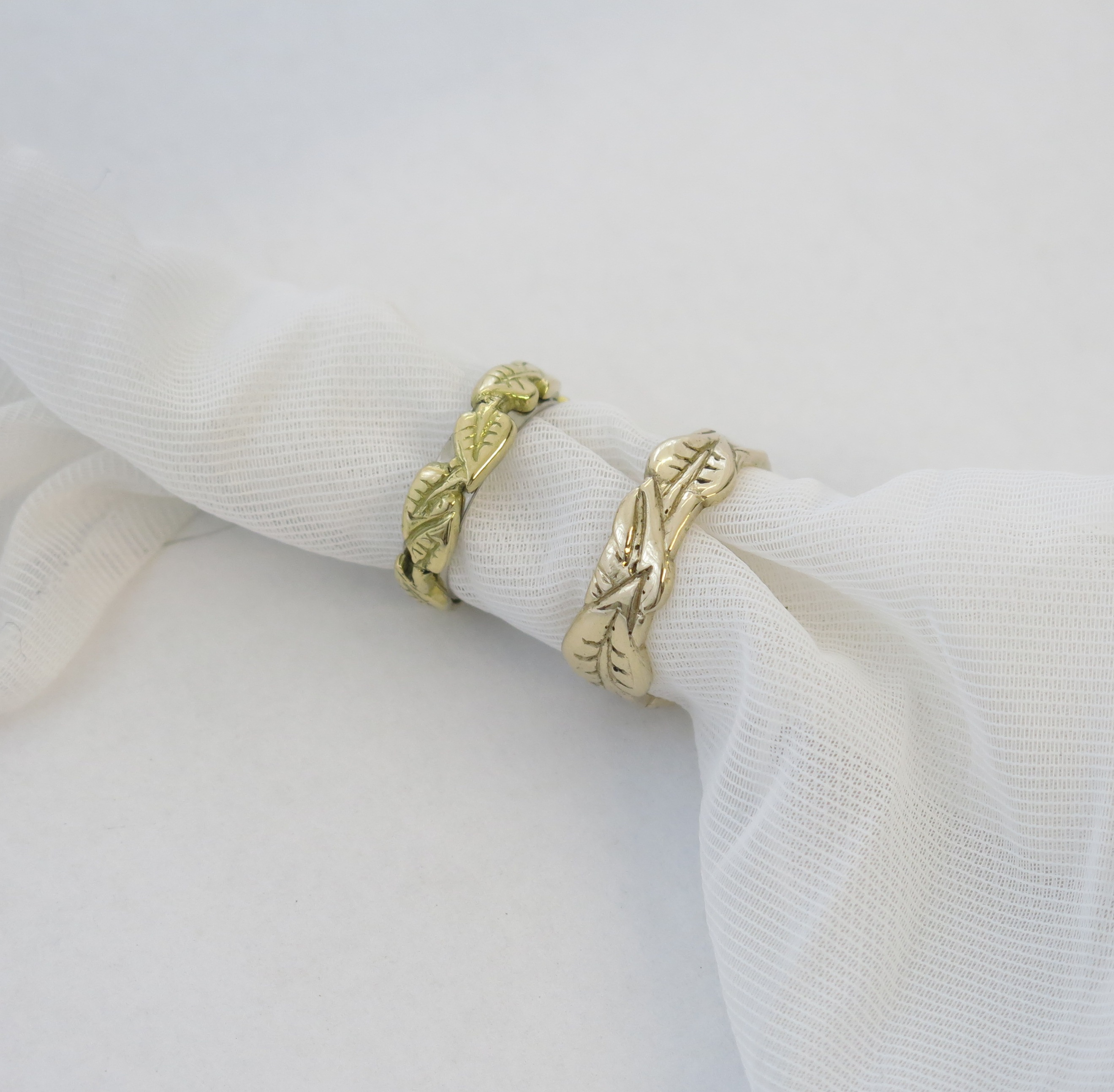 Gold wedding rings with leaf design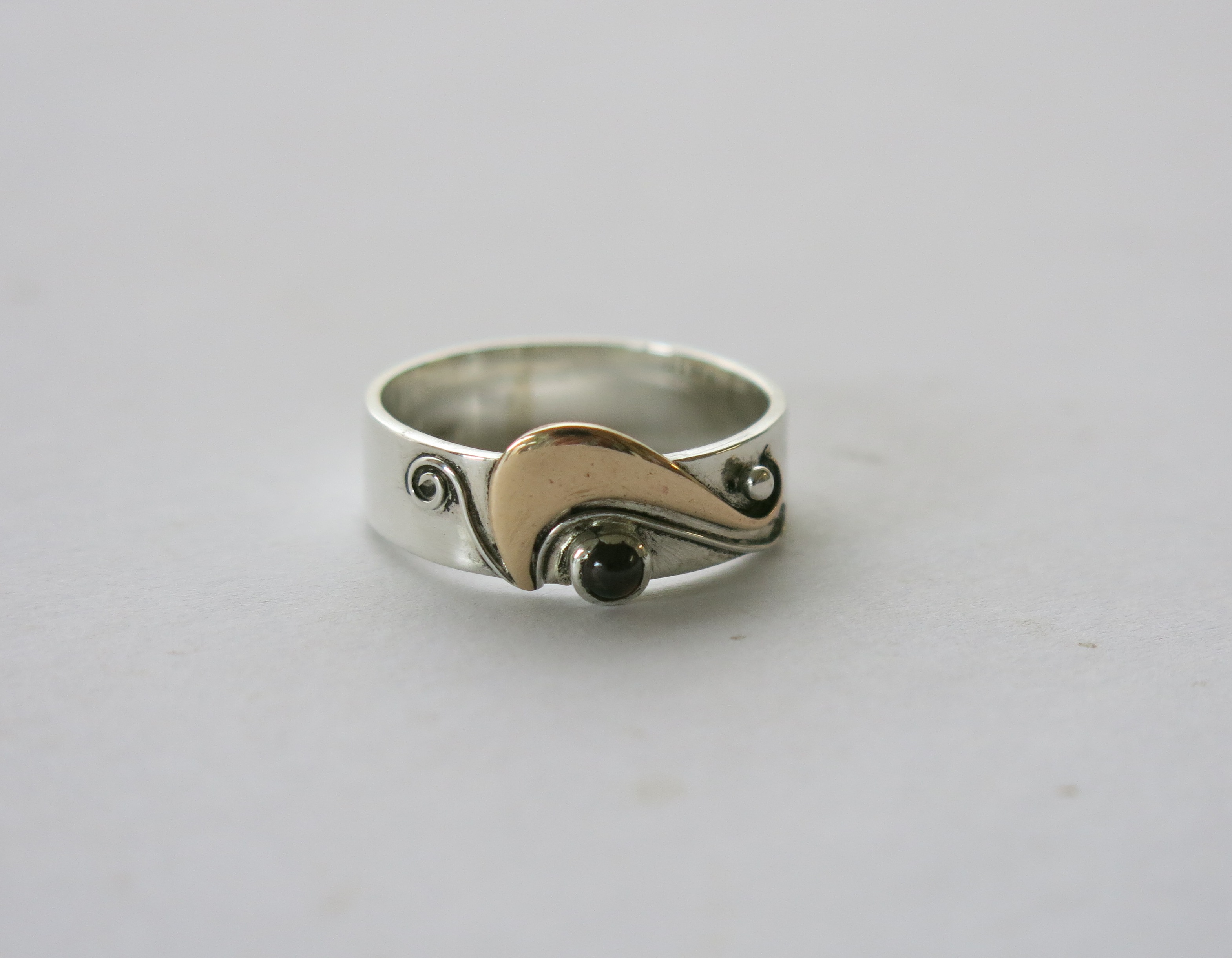 Silver,brass and garnet ring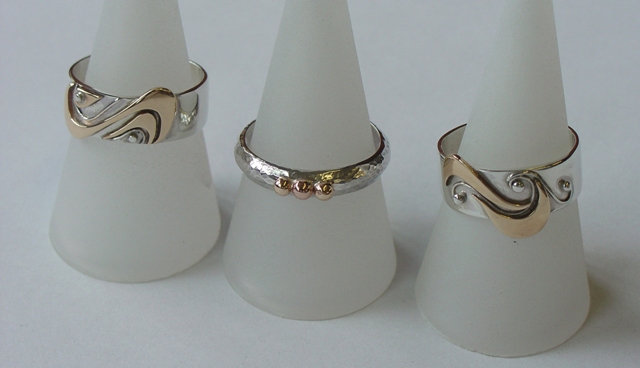 Silver and gold rings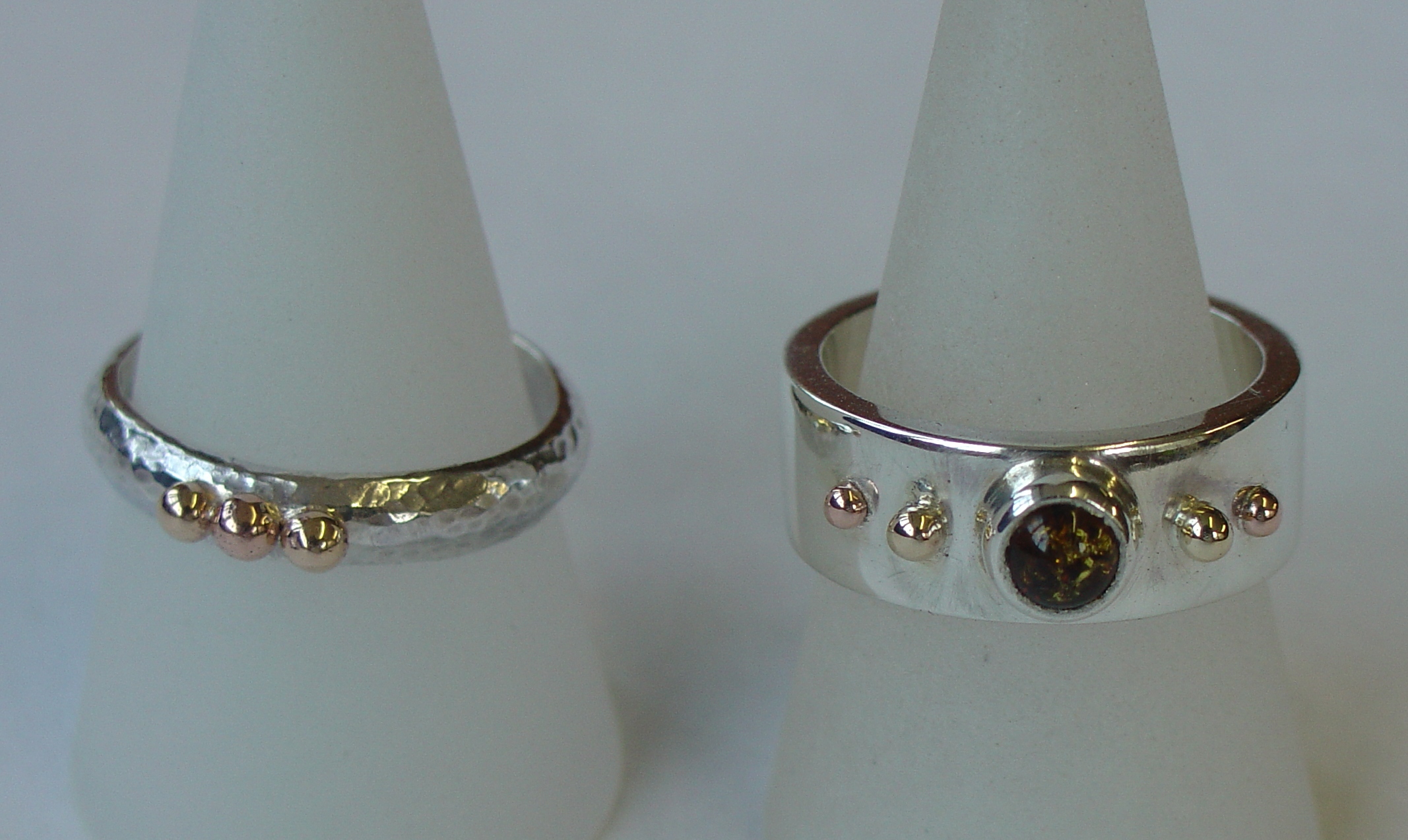 Silver, gold and amber rings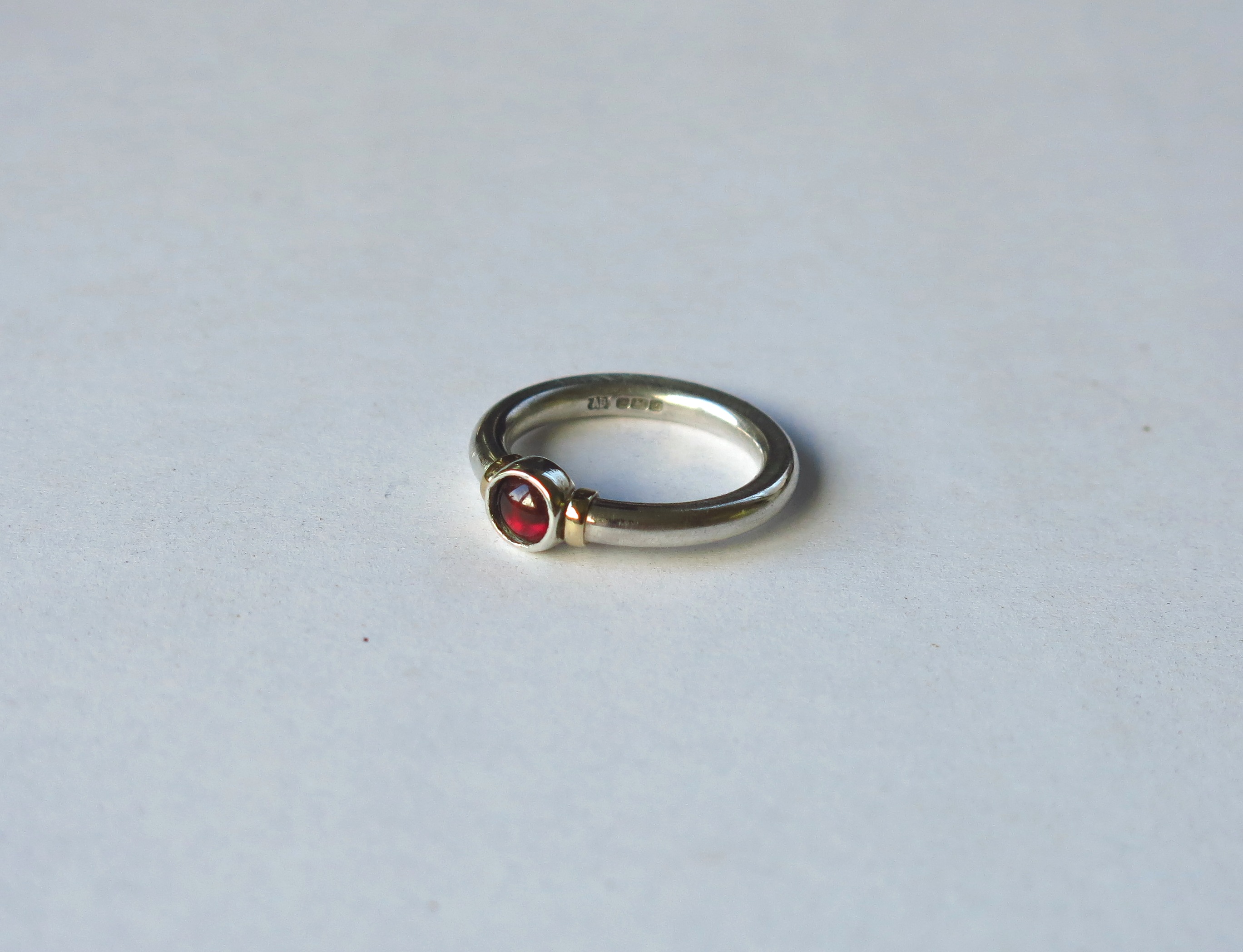 Silver, gold and garnet ring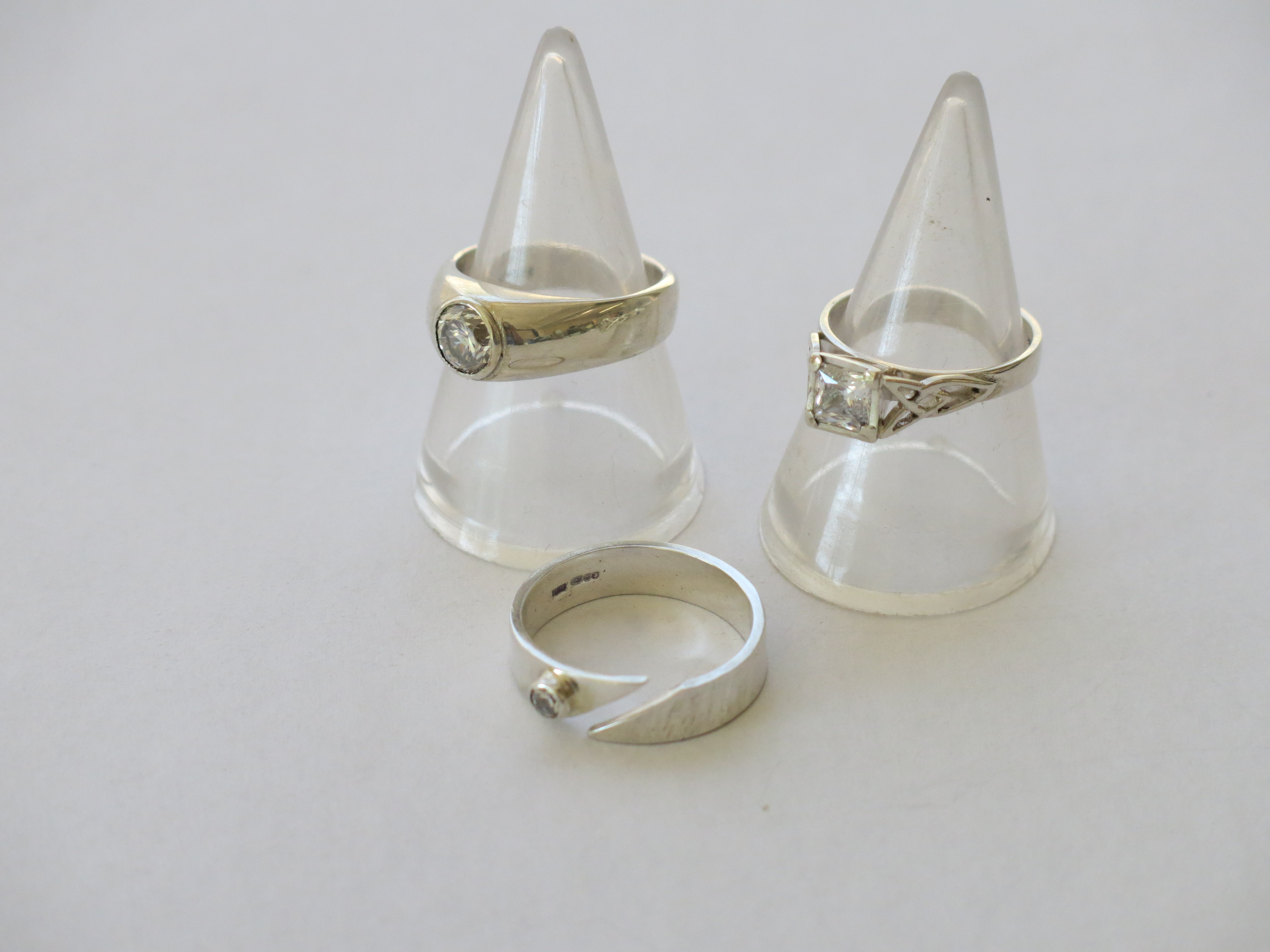 Silver rings with cubic zironic
Platinum, diamond and sapphire ring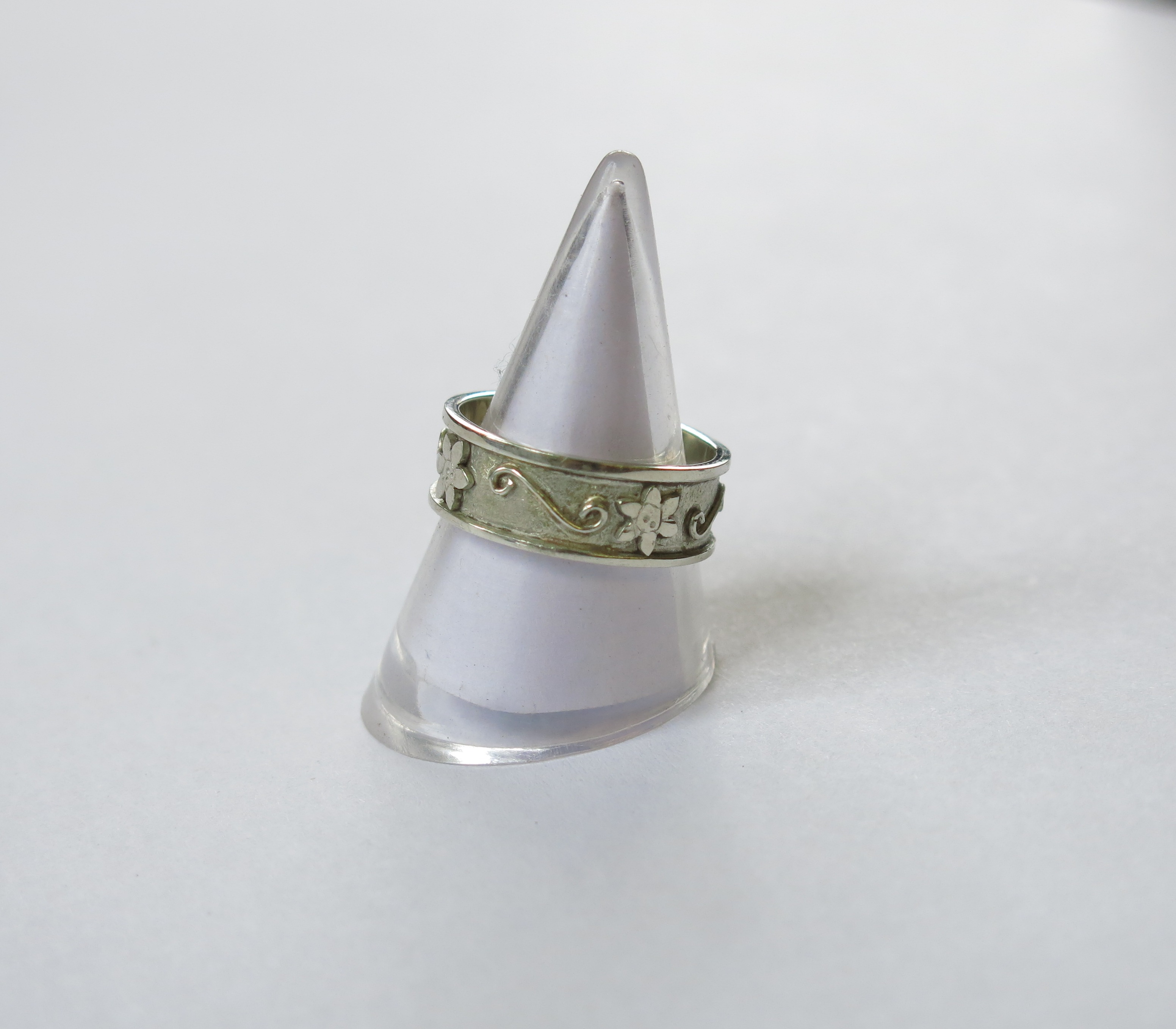 Gold flower ring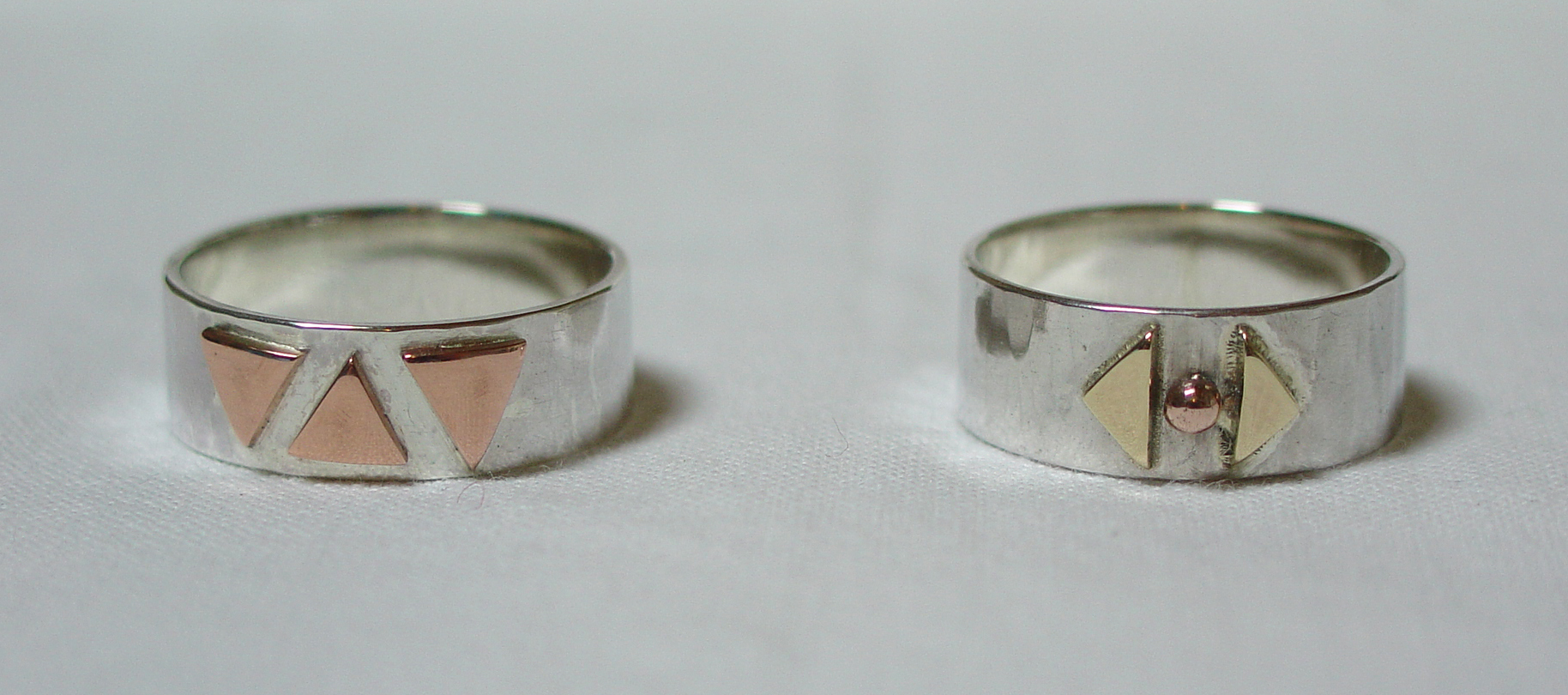 Silver, gold and copper rings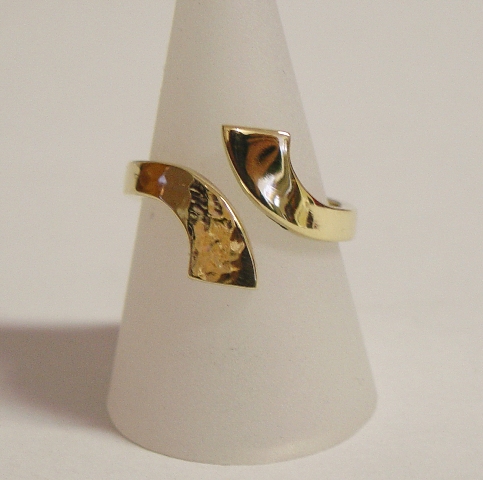 Open gold ring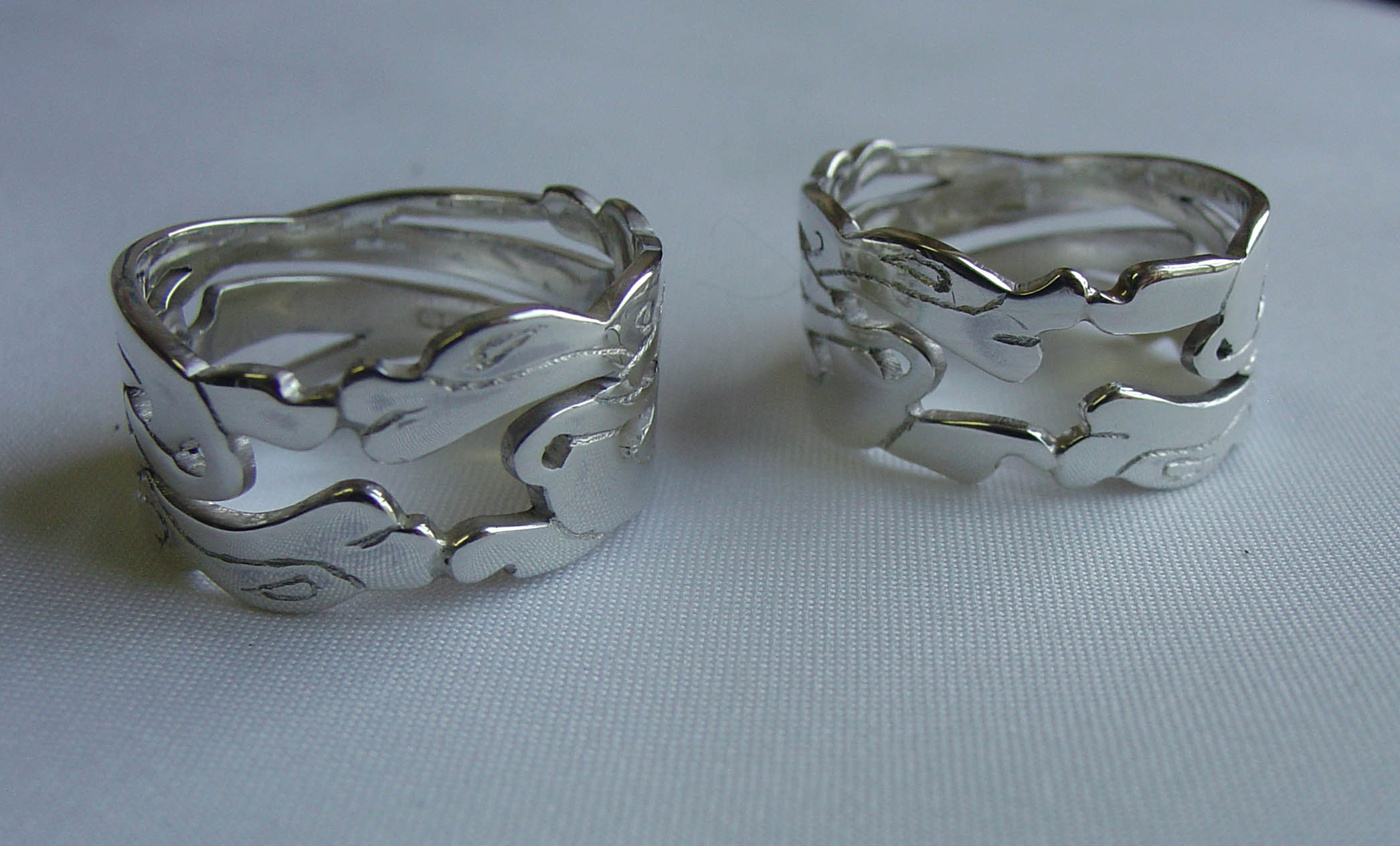 Silver animal cut out rings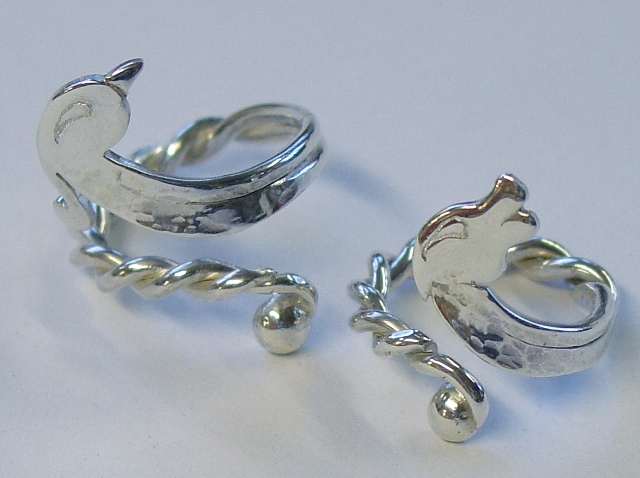 Silver animal and bird open rings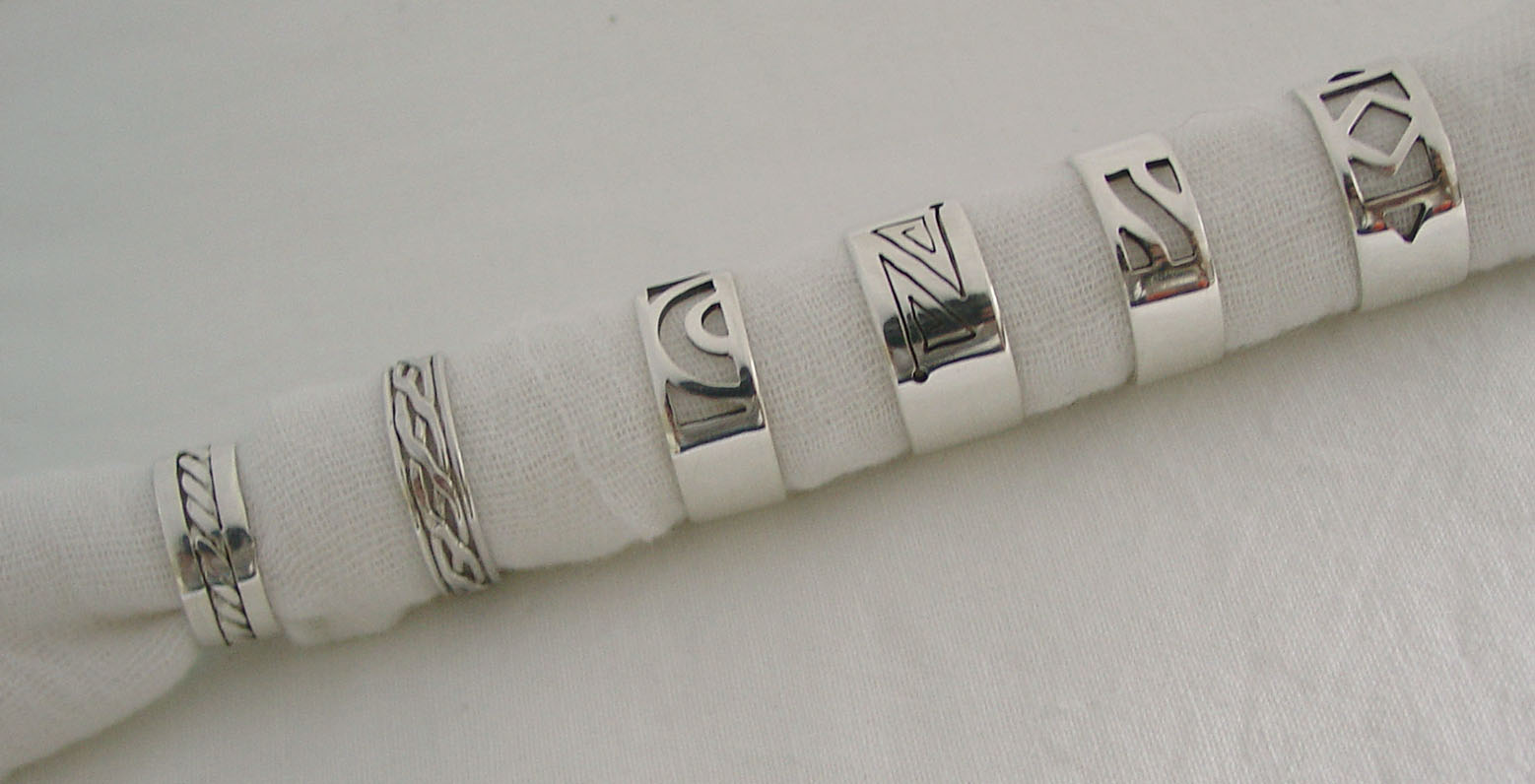 Silver rings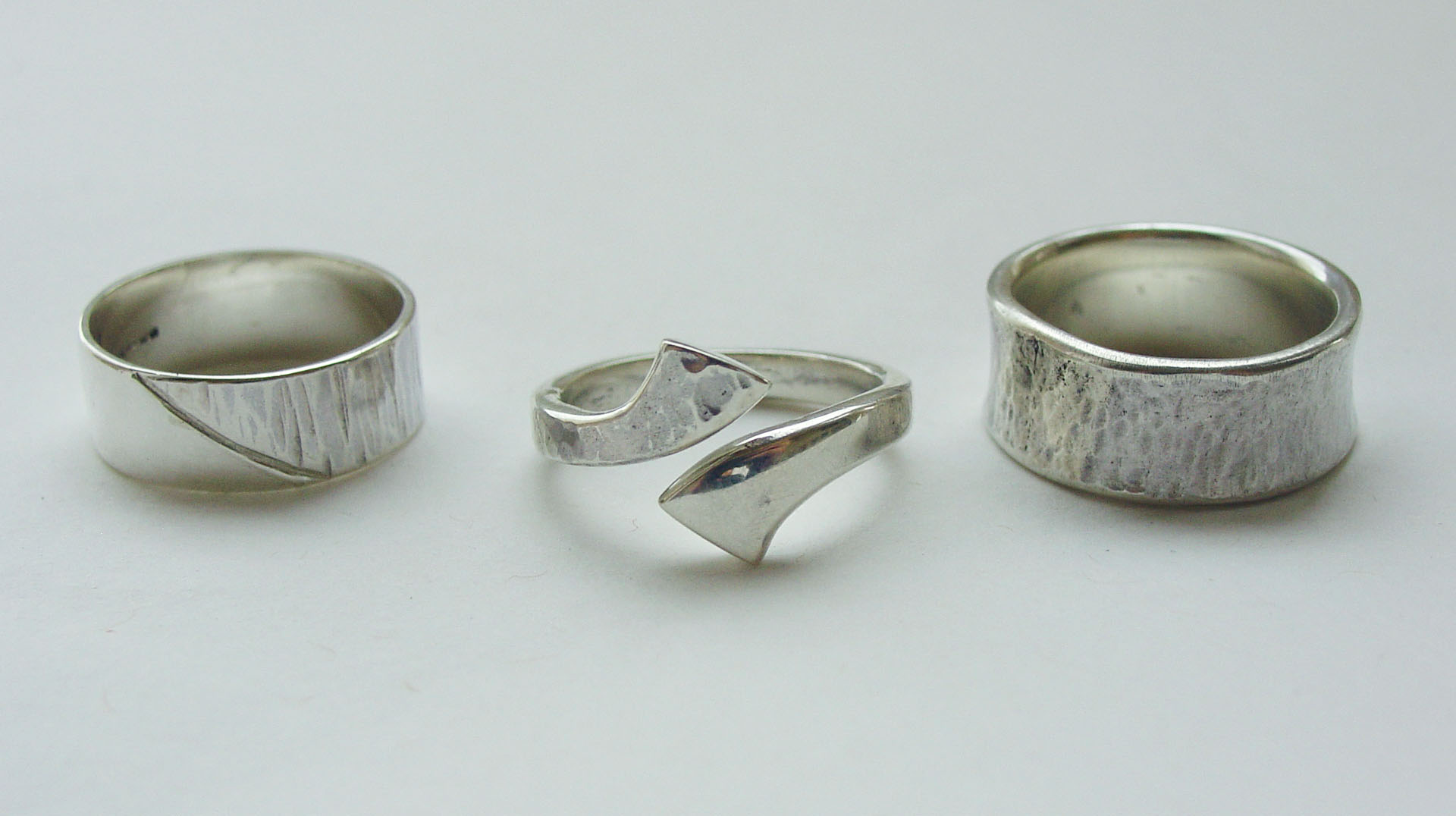 RIngs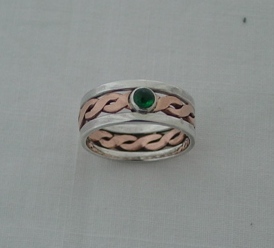 Silver and copper twist with emerald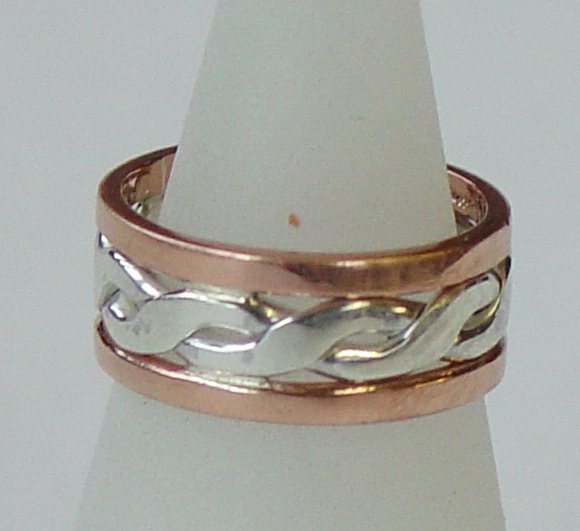 Silver and copper twist ring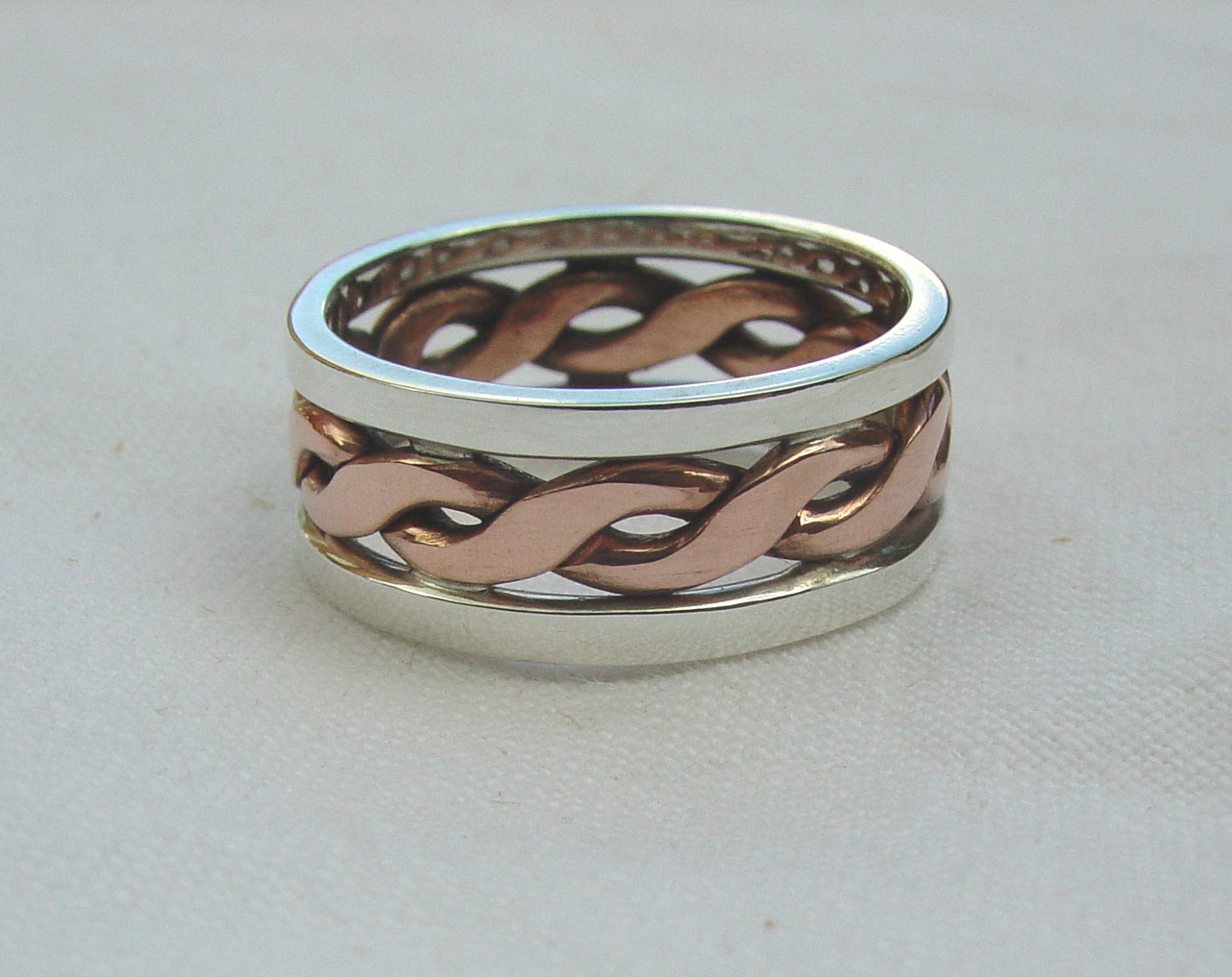 Silver and copper twist ring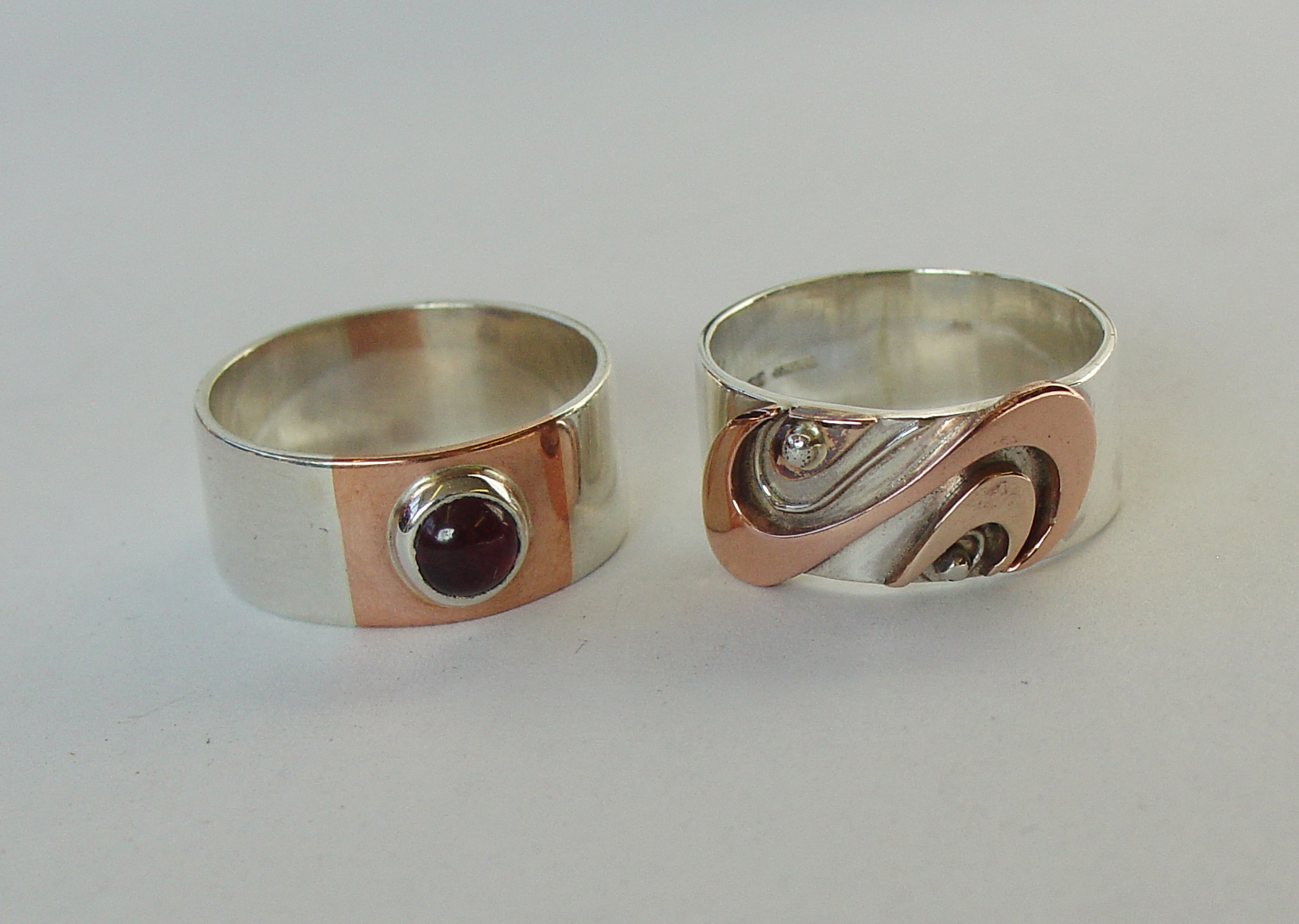 Silver, copper and garnet rings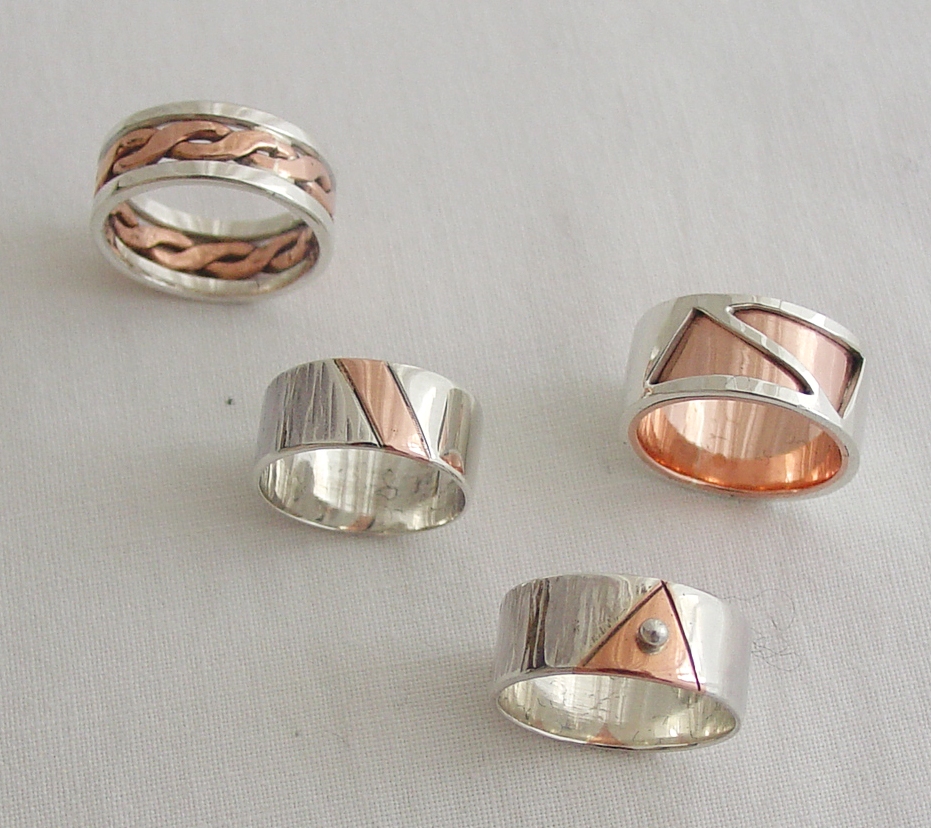 Rings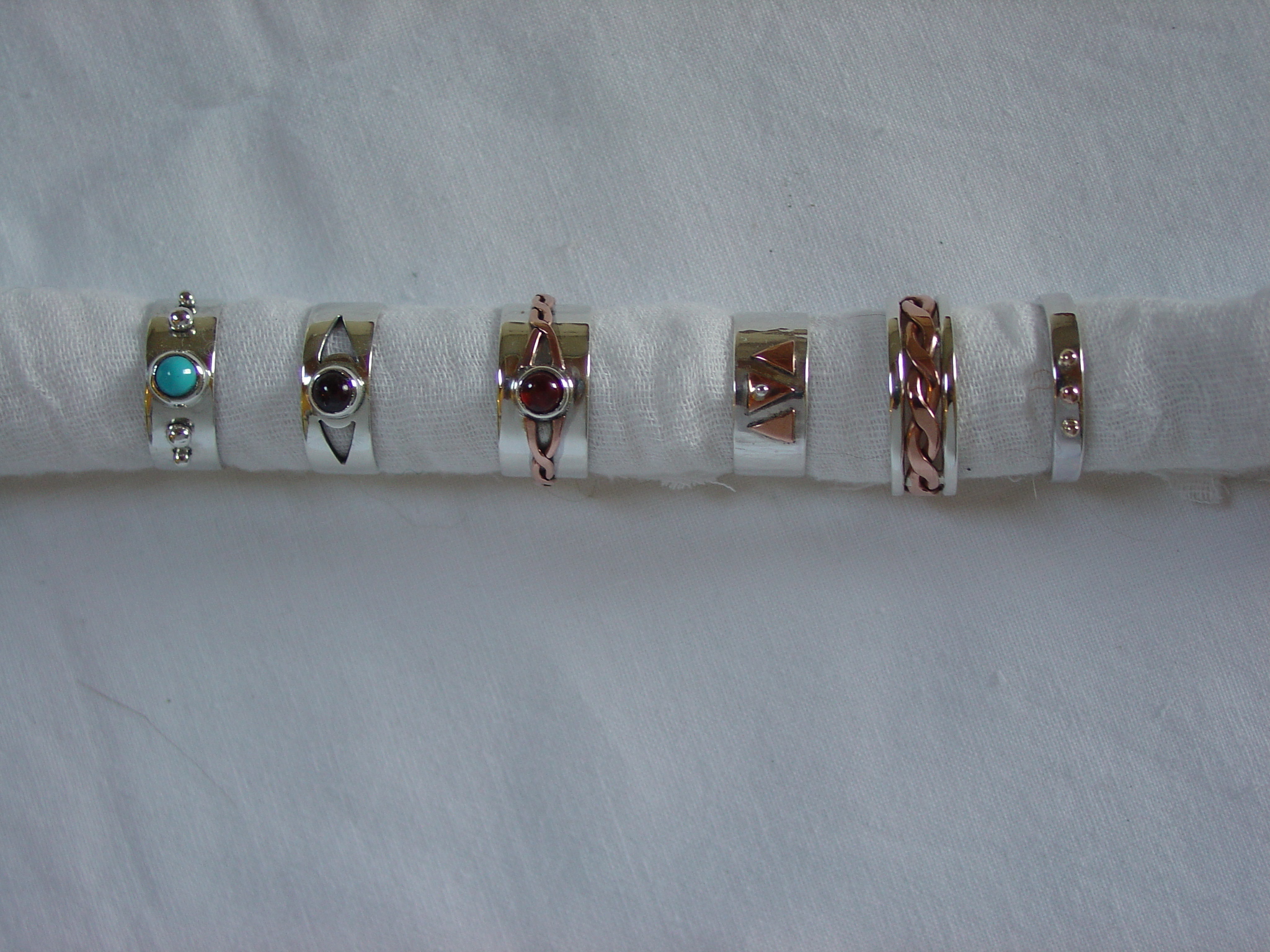 Rings
Gold twist rings

9ct rose gold 3 twist and 2 twist centre with 9ct yellow gold outside bands. Made to order in any combination of golds or with platinum or silver.

Silver bands with cut out knot work

Pair of silver rings with knot-work hand-cut in silver sheet and backed with silver band and silver edging. Commissioned pieces. Similar rings are available with moving centre band in twisted wire.

Gold twist rings

9ct yellow gold 2 and 3 twist centres with 9ct white gold outside bands. Made to order in any combination of golds or with platinum or silver.

Three gold ring

Yellow, rose and white gold plaited wire ring edged with yellow gold.

Gold wedding rings with leaf design

Pair of gold wedding rings made up of leaf designs in yellow gold, smaller ring lined with white gold to show through leaves and match engagement ring. Commissioned pieces.

Silver,brass and garnet ring

Wide flat band in silver with layered brass and silver wire wave design set wit 3mm garnet. Available with gold or copper design and choice of stone.

Silver and gold rings

Silver rings with layered gold design in sheet and wire, centre ring as next image. Also available with copper and brass design.

Silver, gold and amber rings

Textured d-shape silver band with gold ball details in yellow and rose gold, chunky section ring set with amber and with rose and yellow gold balls.

Silver, gold and garnet ring

Rounded silver band with 9ct gold and set with 5mm garnet.

Silver rings with cubic zironic

Selection of silver rings, chunky signet style ring with flush set CZ. open ring with small raised CZ , square CZ with cut out knot work detail shoulders,

Platinum, diamond and sapphire ring

D-shape platinum ring set with central diamond and two pink sapphires, Commissioned piece.

Gold flower ring

9ct white gold ring with layered flower design and wire scroll detail, edged with gold bands. Commissioned piece.

Silver, gold and copper rings

Silver ring with layered triangle design in copper, silver ring with yellow gold triangle design and rose gold central bead.

Open gold ring

Textured 9ct yellow gold ring in open design,

Silver animal cut out rings

Cut out silver sheet rings with zoomorphic entwined animals - you may need to see the design flat on papr to work out where the heads and feet are :-)

Silver animal and bird open rings

Silver animal and bird open rings with sheet heads into twisted wire bodies with silver ball ends.

Silver rings

Selection of silver rings with cut through designs and twisted wire banding.

RIngs

Silver rings with textured surfaces

Silver and copper twist with emerald

Copper twisted centre edged with silver bands and set with emerald. Available to order in rose, white or yellow gold or platinum with choice of stone.

Silver and copper twist ring

Silver twisted centre edged with copper. Also available im mixture of golds or with platinum.

Silver and copper twist ring

Twisted copper centre with silver edging. Also available in mixture of gold, platinum or set with stone,

Silver, copper and garnet rings

Silver ring with copper inset set with garnet, silver ring with layered wave design in copper and wire.

Rings

Silver and copper rings

Rings

Silver and copper, some with inset stones