You can  view, buy, order or commission work through my website and my Instagram
My workshop/gallery in Chalford, GL6 8NR and The Cotswold Craftsmen Gallery in Nailsworth, GL6 0BX are now both re-open!!Yay! :-))
Take a look at the events and outlets page for opening details. You can still also buy, reserve or order work here. You can pay a deposit or the full balance by transfer or credit/debit card. There could be a small delay with posting but please do know if you need pieces quickly.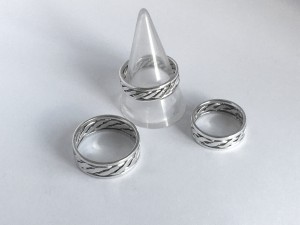 Jewellery is of course something very personal that often needs to be tried on so please be assured that should you wish to return any piece that 'isn't quite you' once it arrives, I will give a full refund when it is returned to me as it left.
I am now also able to take on new commissions so do get in touch if you would like something designed or created for you. (Please note change of email address below)
You can also get in touch through my contact us page, directly on my email hazelmorrisjeweller@gmail.com or my mobile 07961 914 957 if you have any queries or would like to discuss work or postal issues.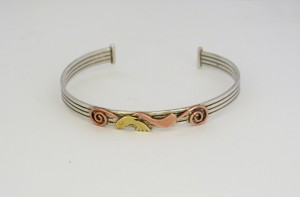 **** UPDATE – My business email account of the last 20 years (haze.morris@virgin.net) has 'kindly' been completely deleted. Please use  hazelmorrisjeweller@gmail.com  to contact me on email or message/call 07961 914 957 ***
It will take some time to add all stock to this page so do also get in touch if you would like to see other pieces quicker than I can put them up! :-))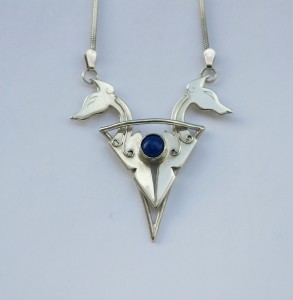 You can also see  work  on instagram @ hazel_morris_arkanejewellery where you can direct message me if you are interested in purchasing pieces

(Please note – all snake chains are 1.4mm thick and all pieces are hallmarked unless otherwise stated .)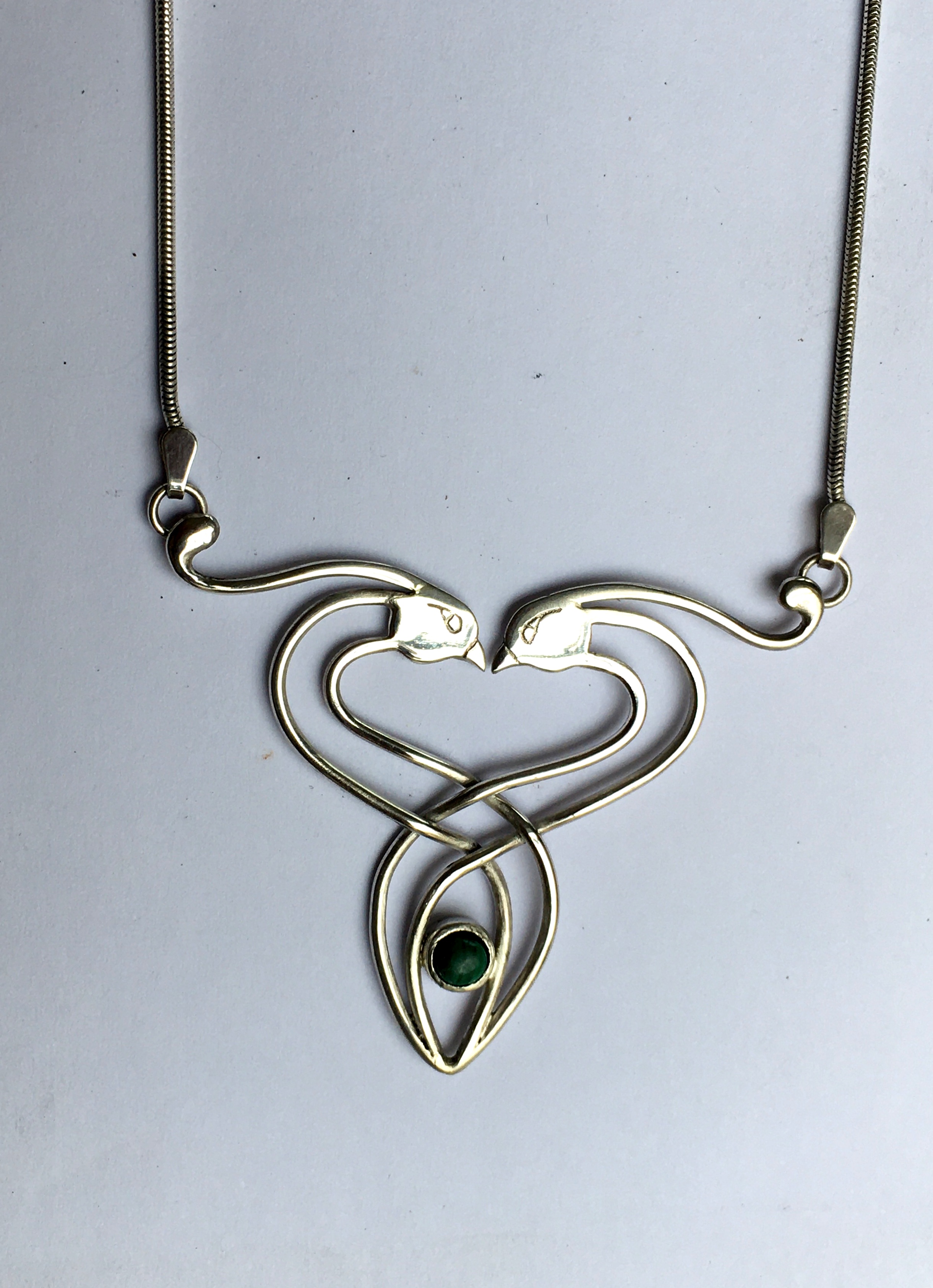 Bird head pendant with malachite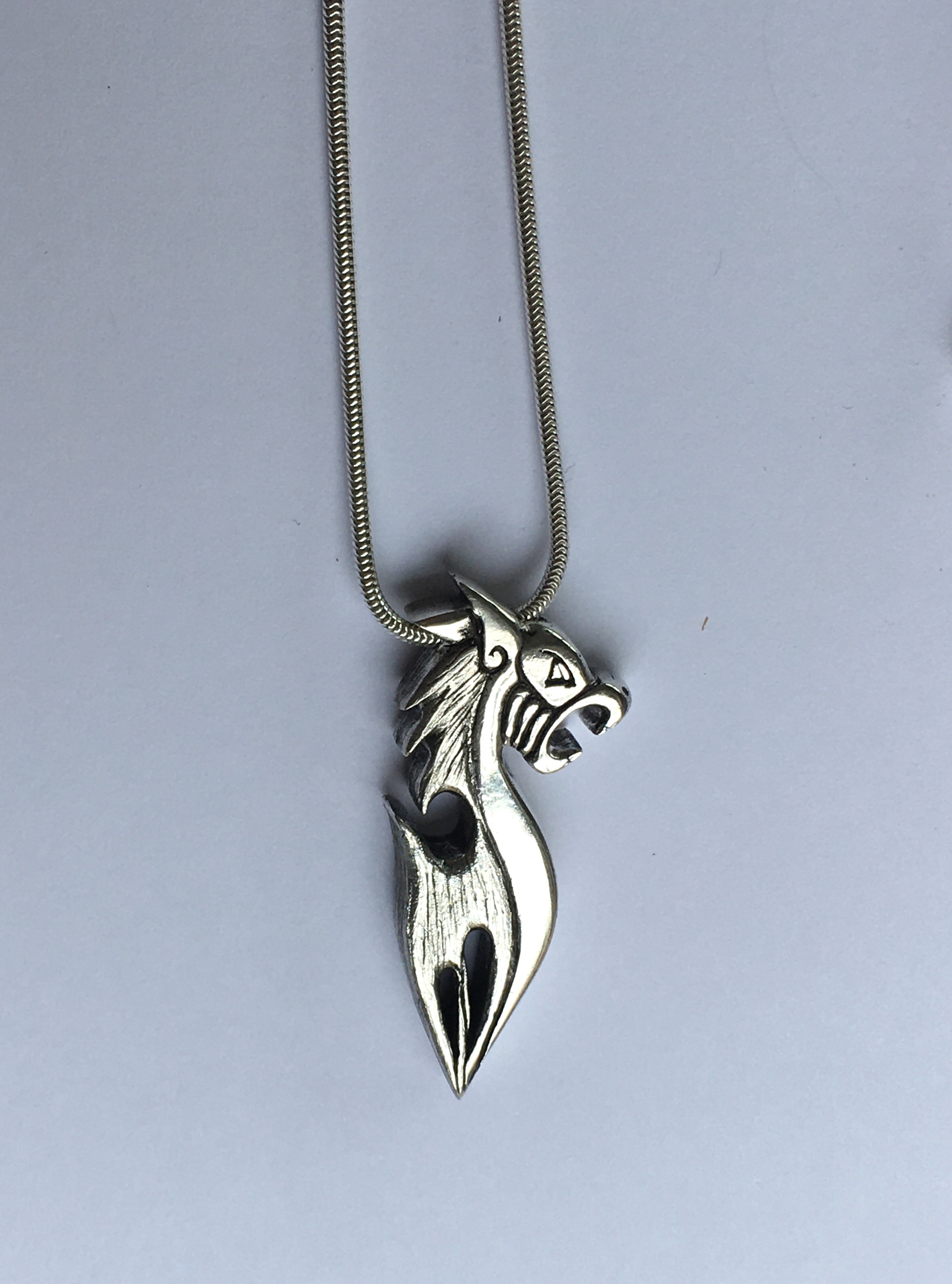 Fierce Beast - Limited Edition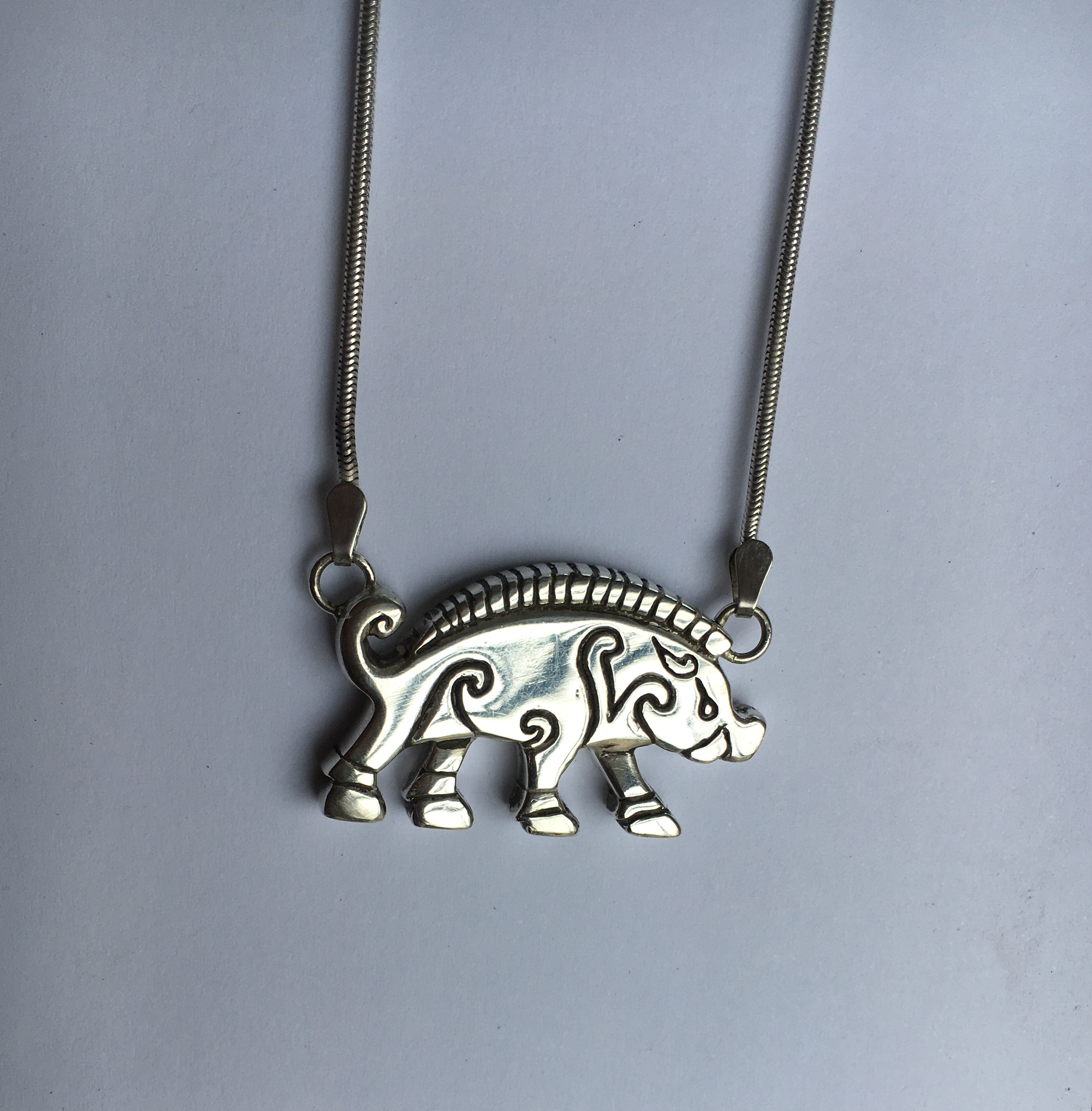 Boar Pendant - Limited Edition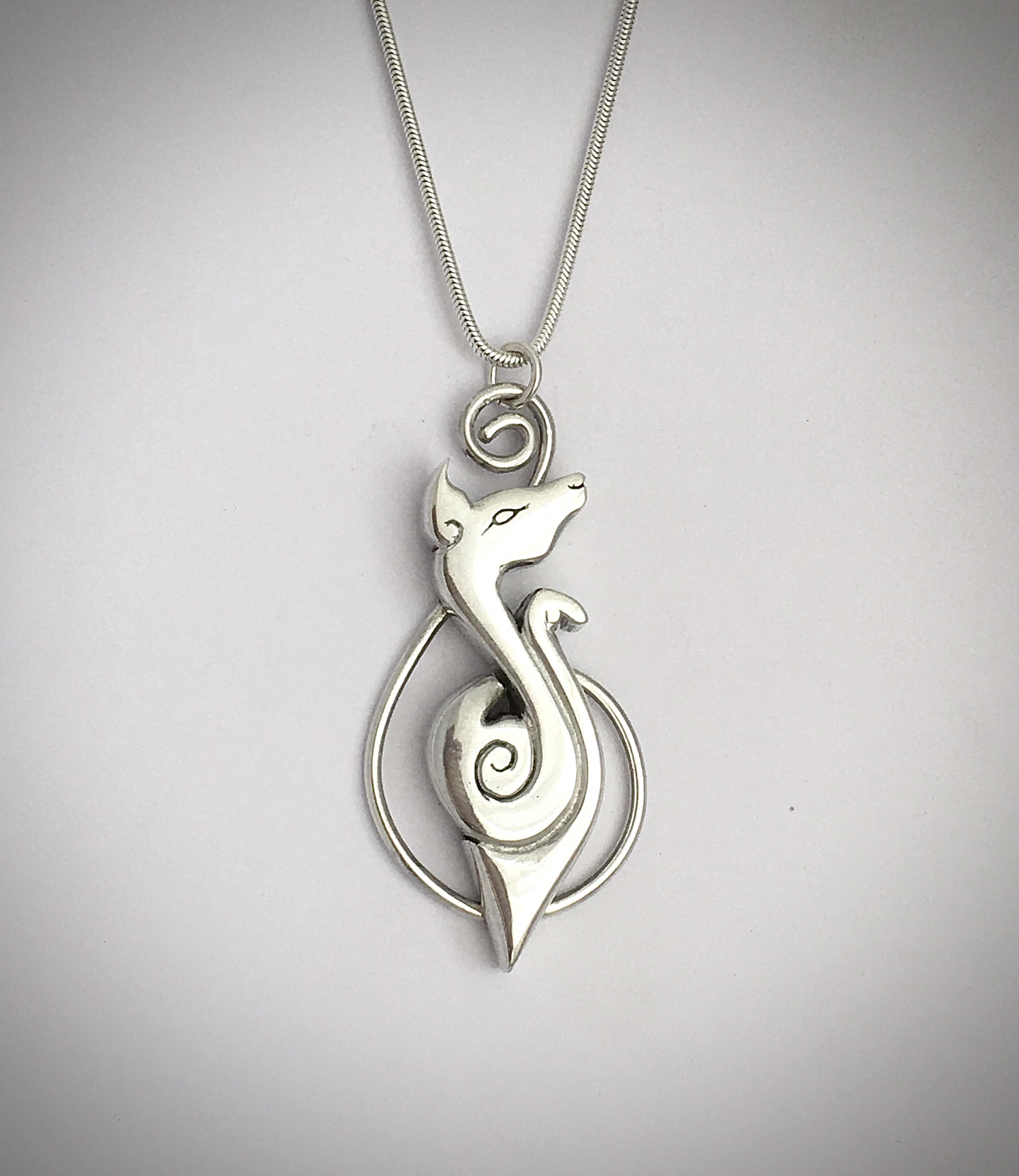 Dog pendant -SOLD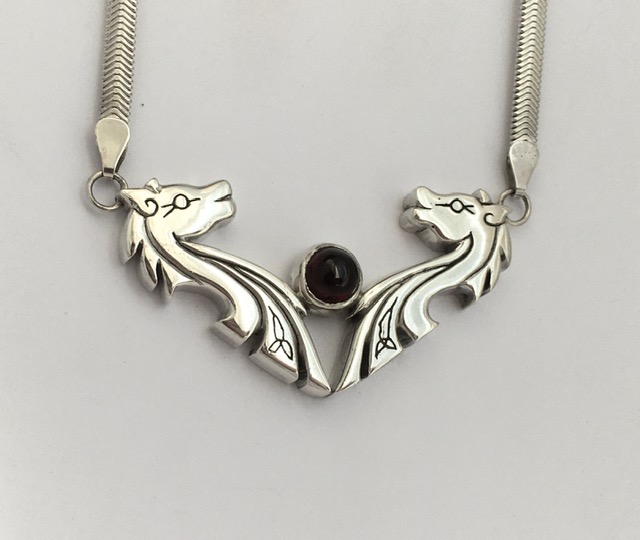 Large cast horses heads neckpiece with garnet - SOLD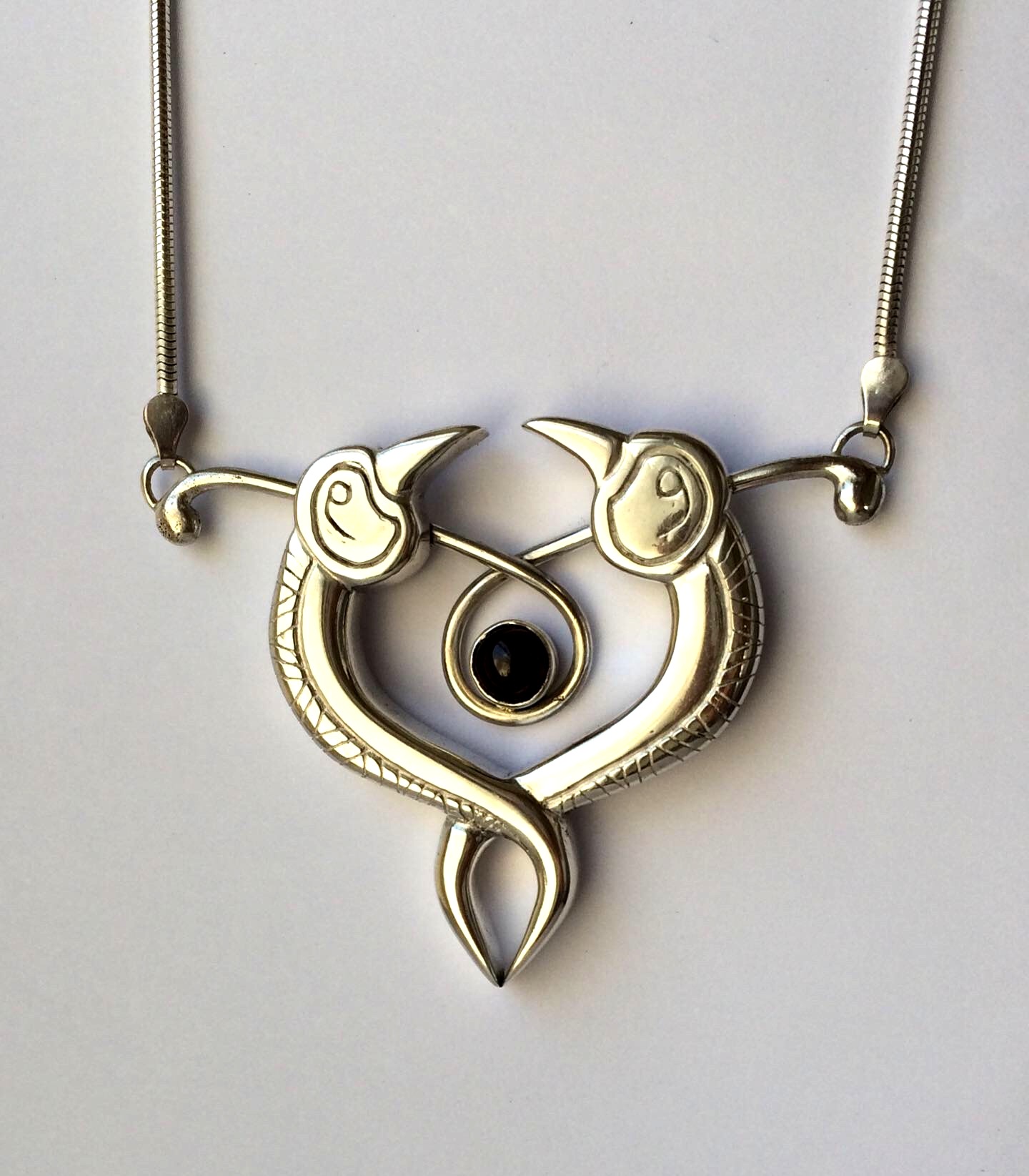 Large cast birds with garnet -SOLD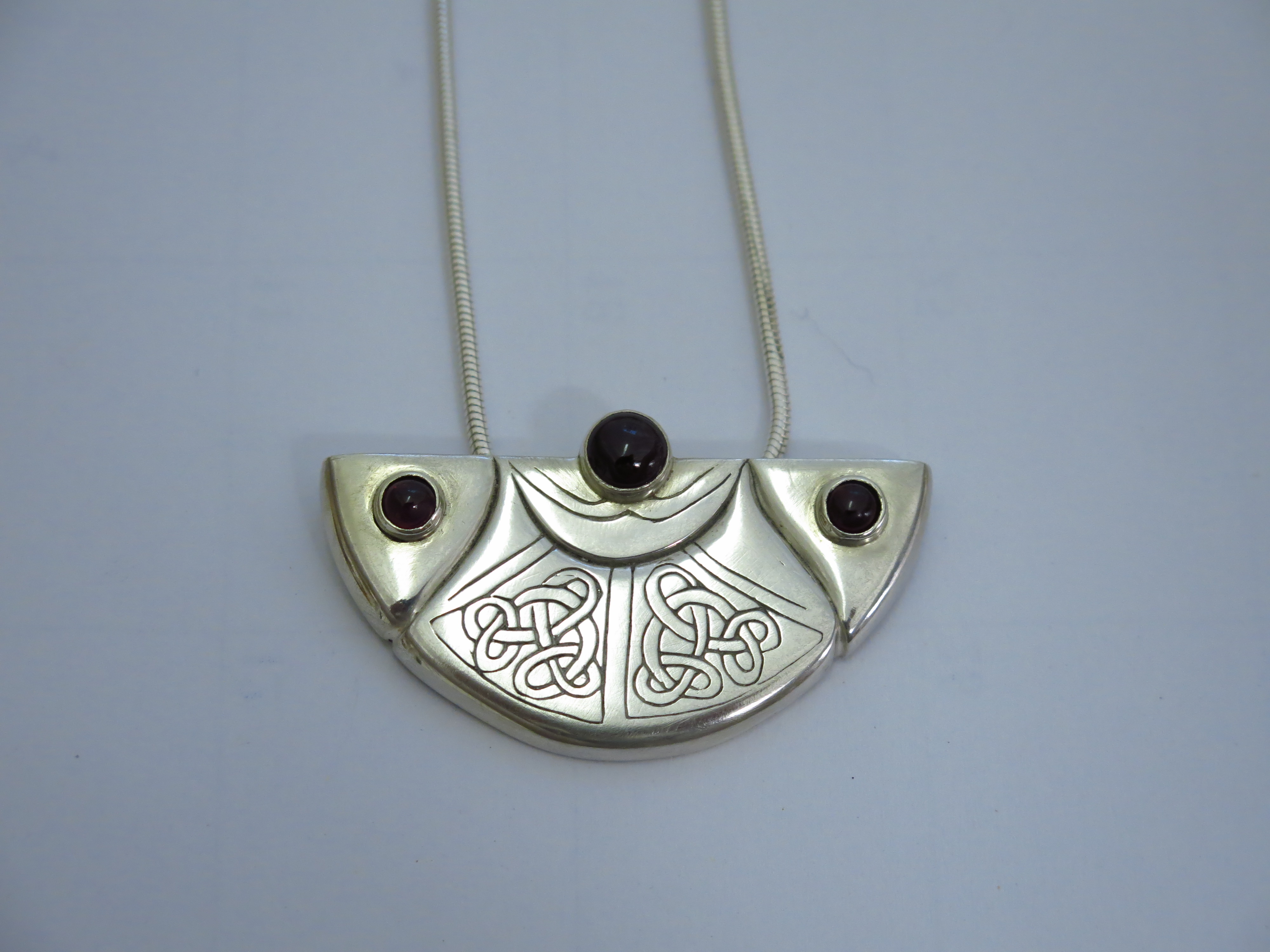 Silver pendant with garnet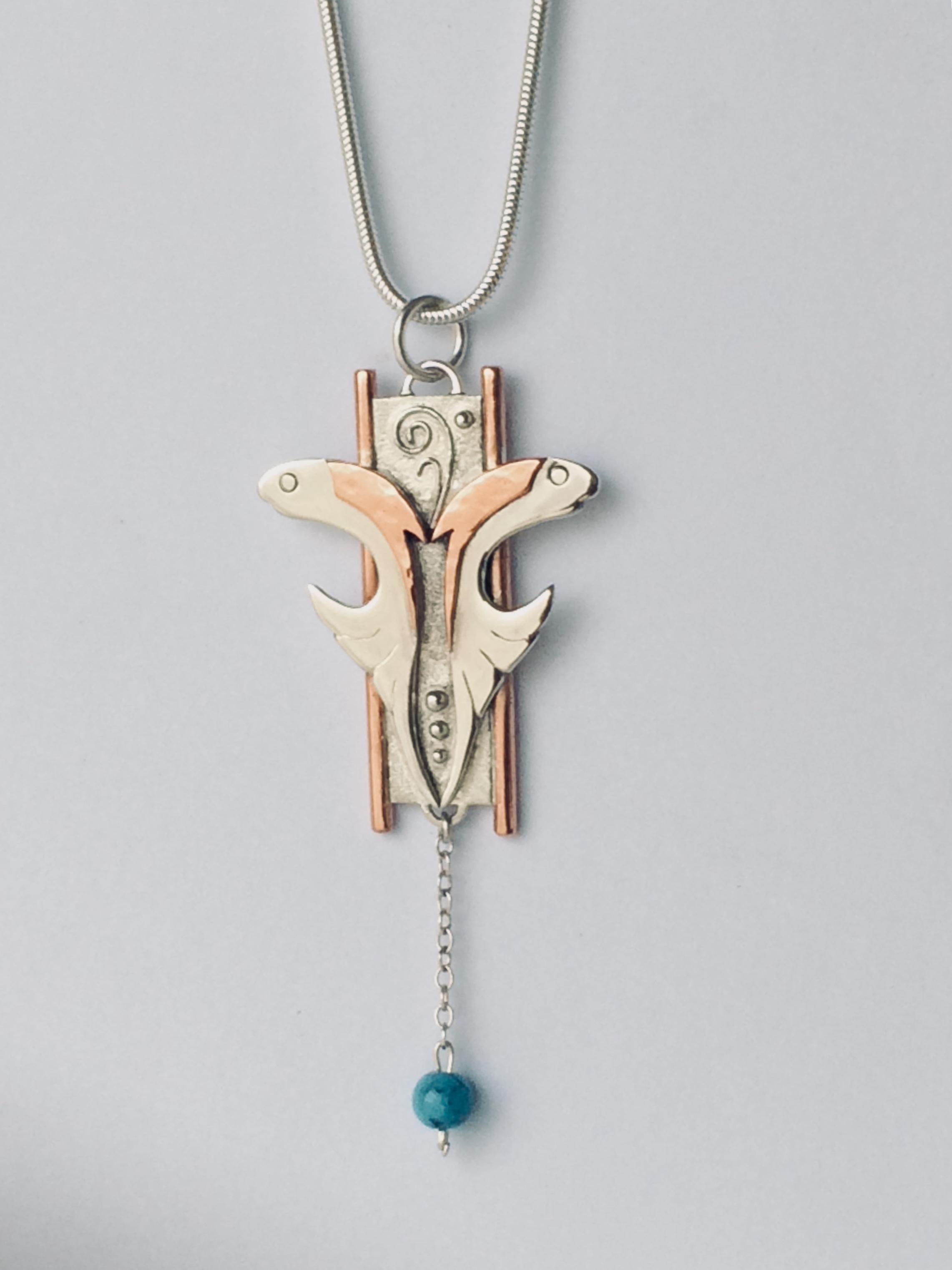 Silver and copper fish pendant with turquoise SOLD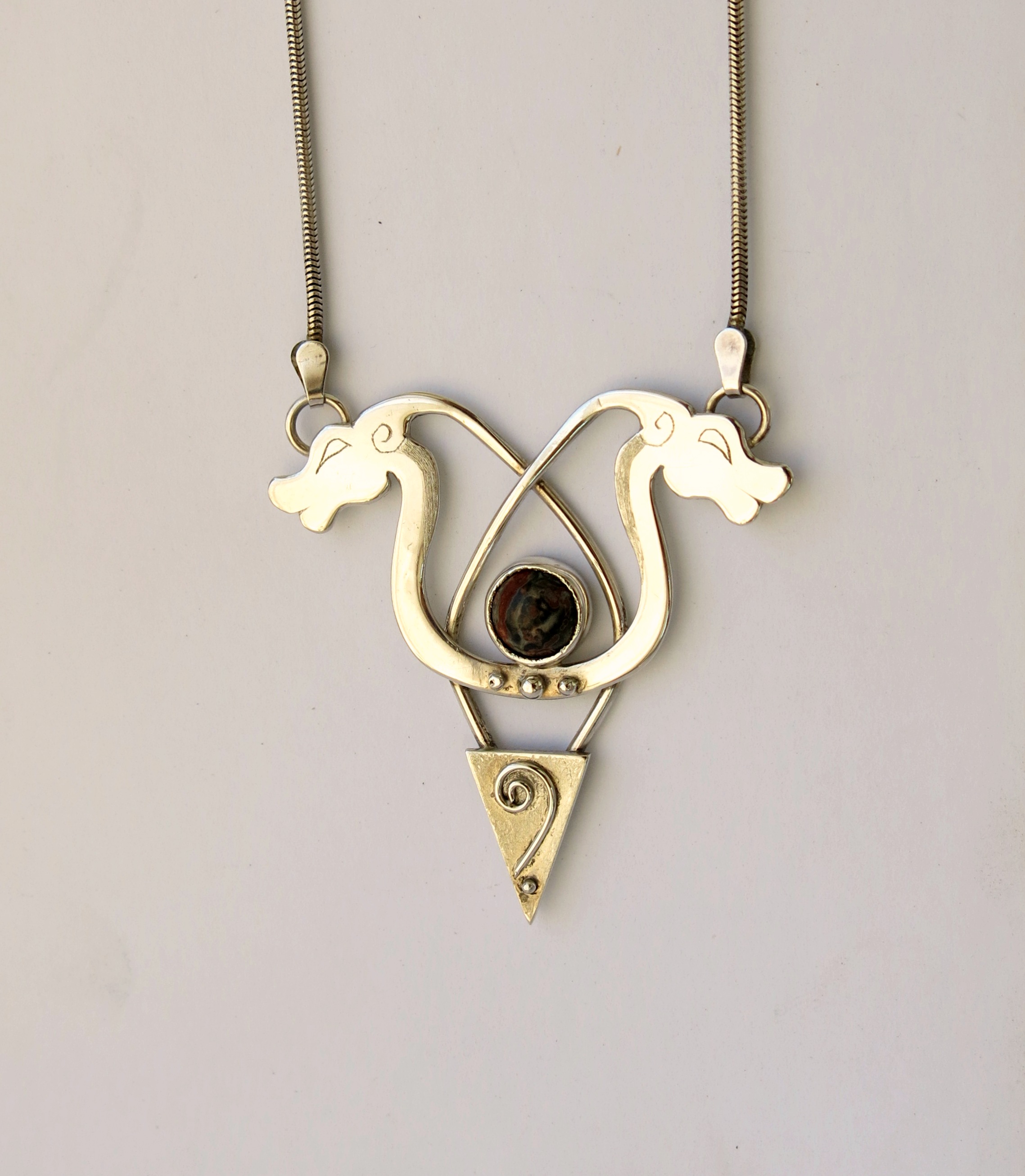 Silver animals pendant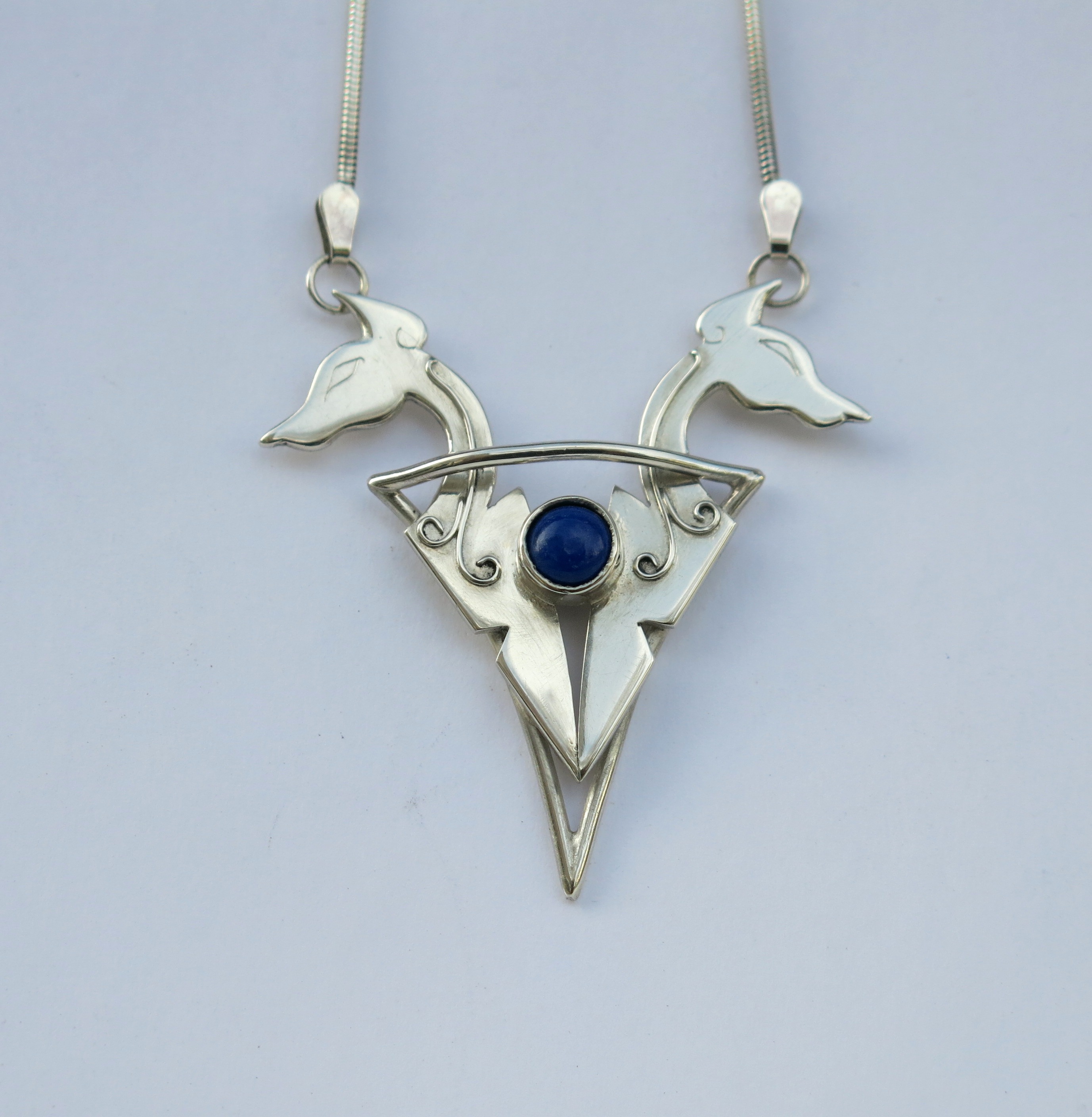 Dog heads pendant with Lapis Lazuli SOLD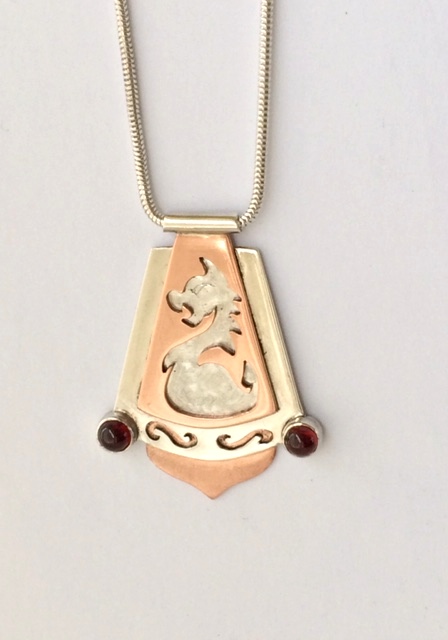 Silver and copper cut out animal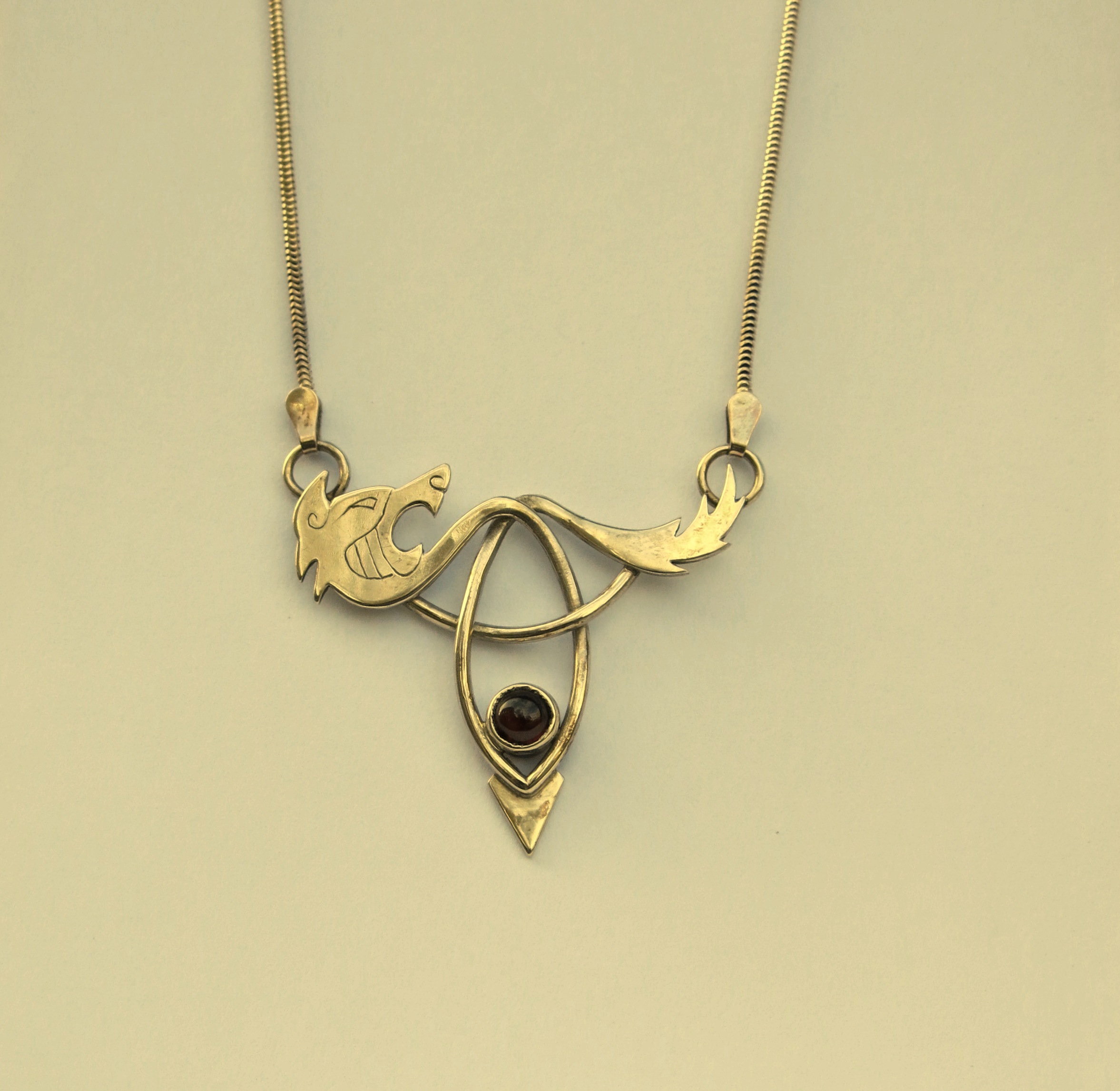 Wild beast with garnet pendant SOLD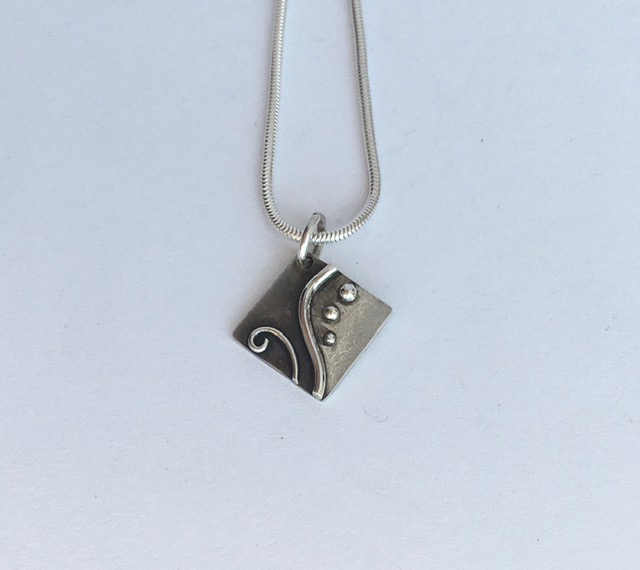 Silver pendant with black effect (to order)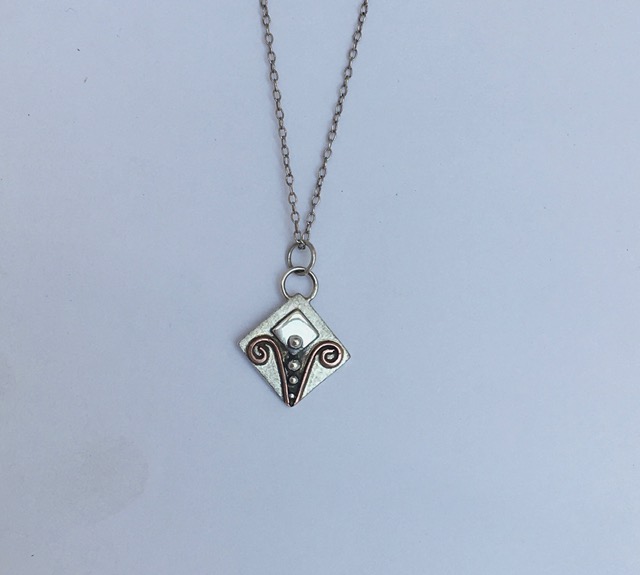 Silver pendant with copper detail (to order)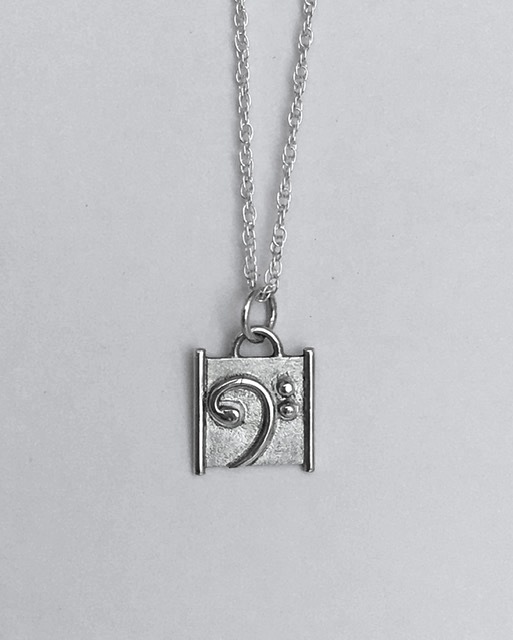 Square silver pendant (to order)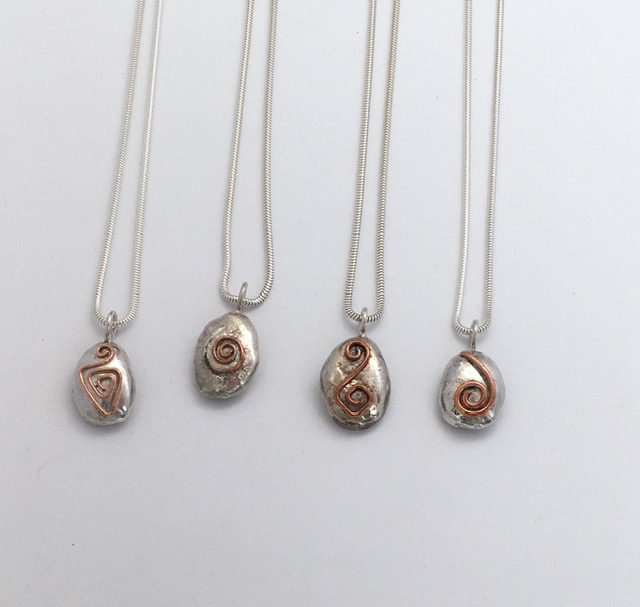 Silver nuggets with copper wire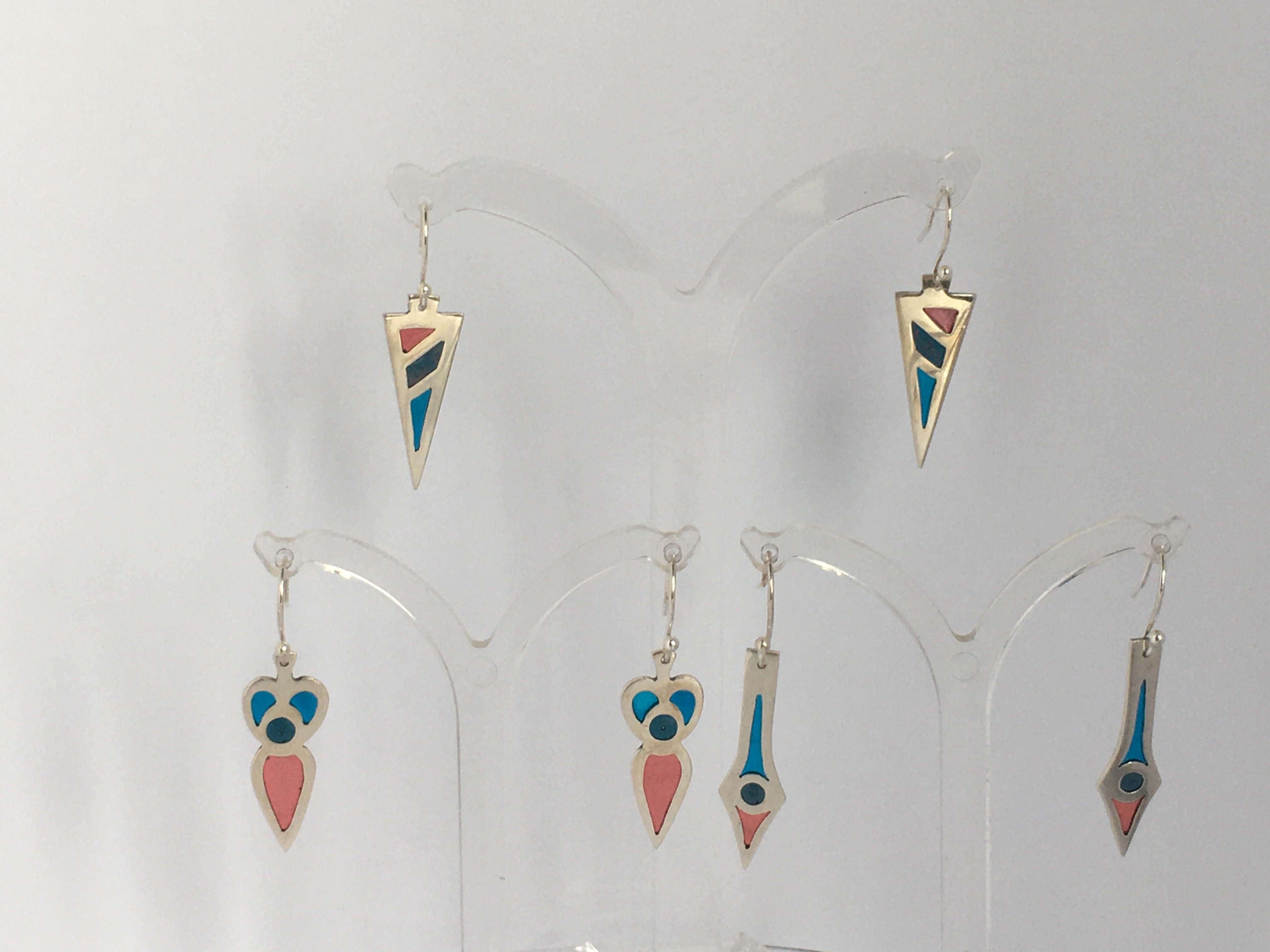 Silver earrings inset with coloured resin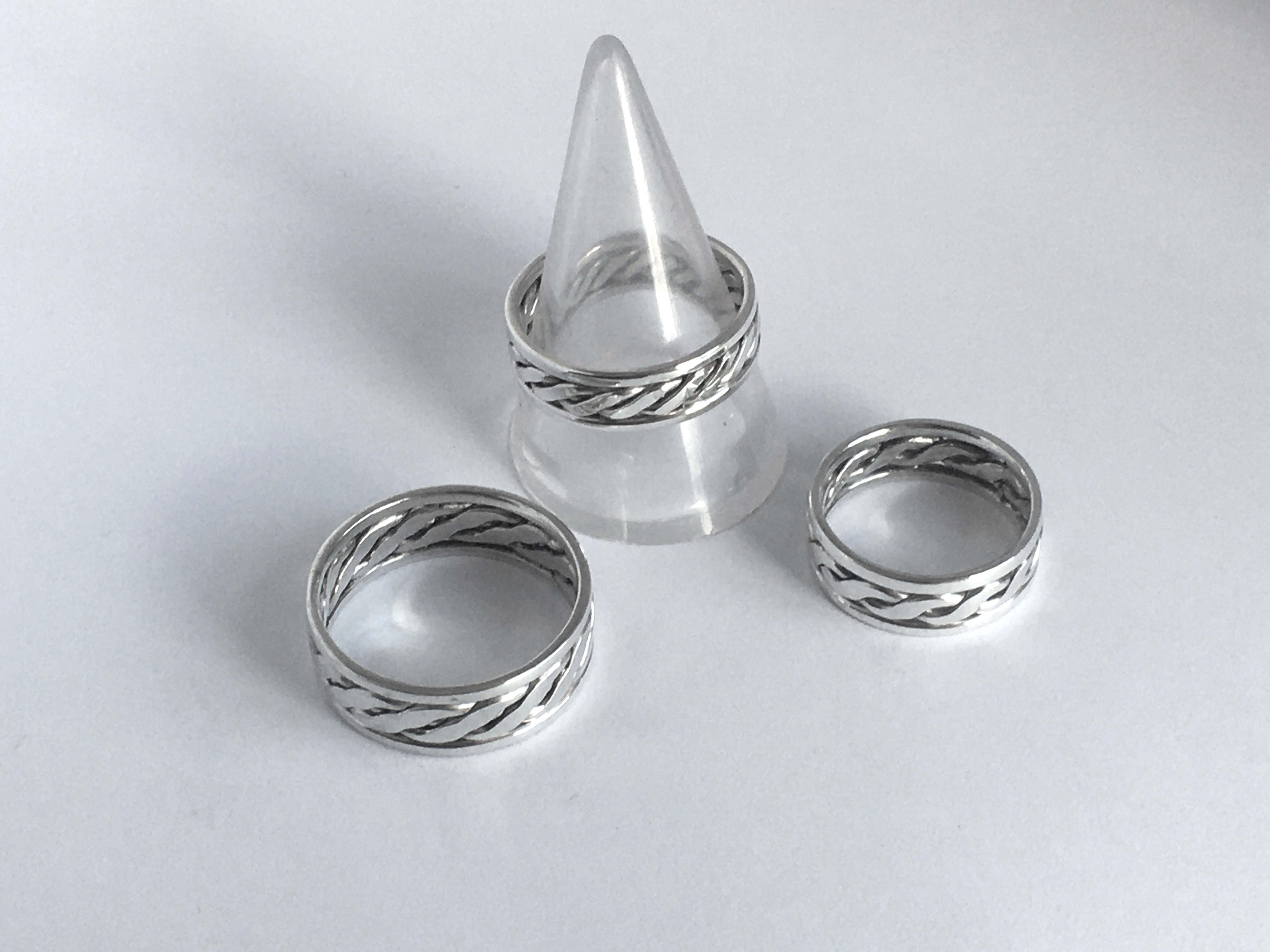 Silver twisted wire rings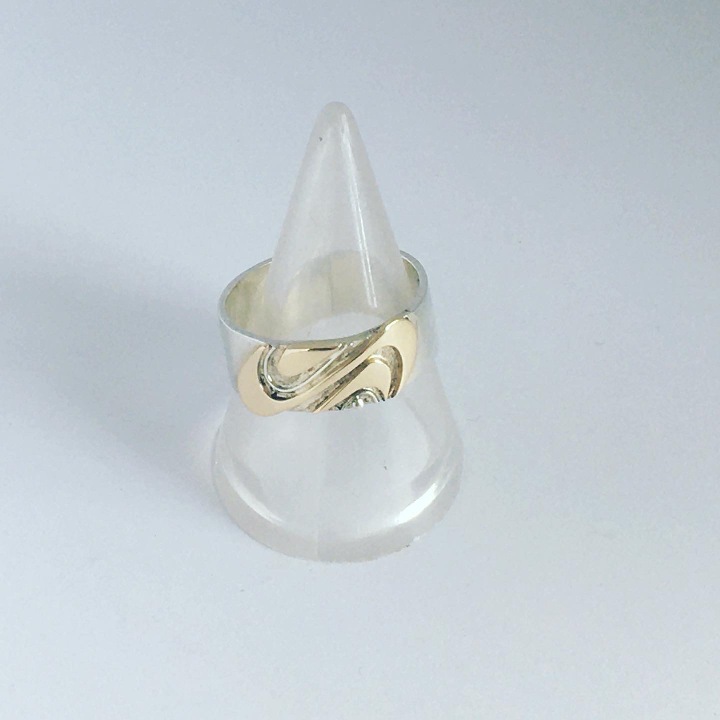 Silver and gold swirl ring
9ct yellow and rose gold twist ring (to order)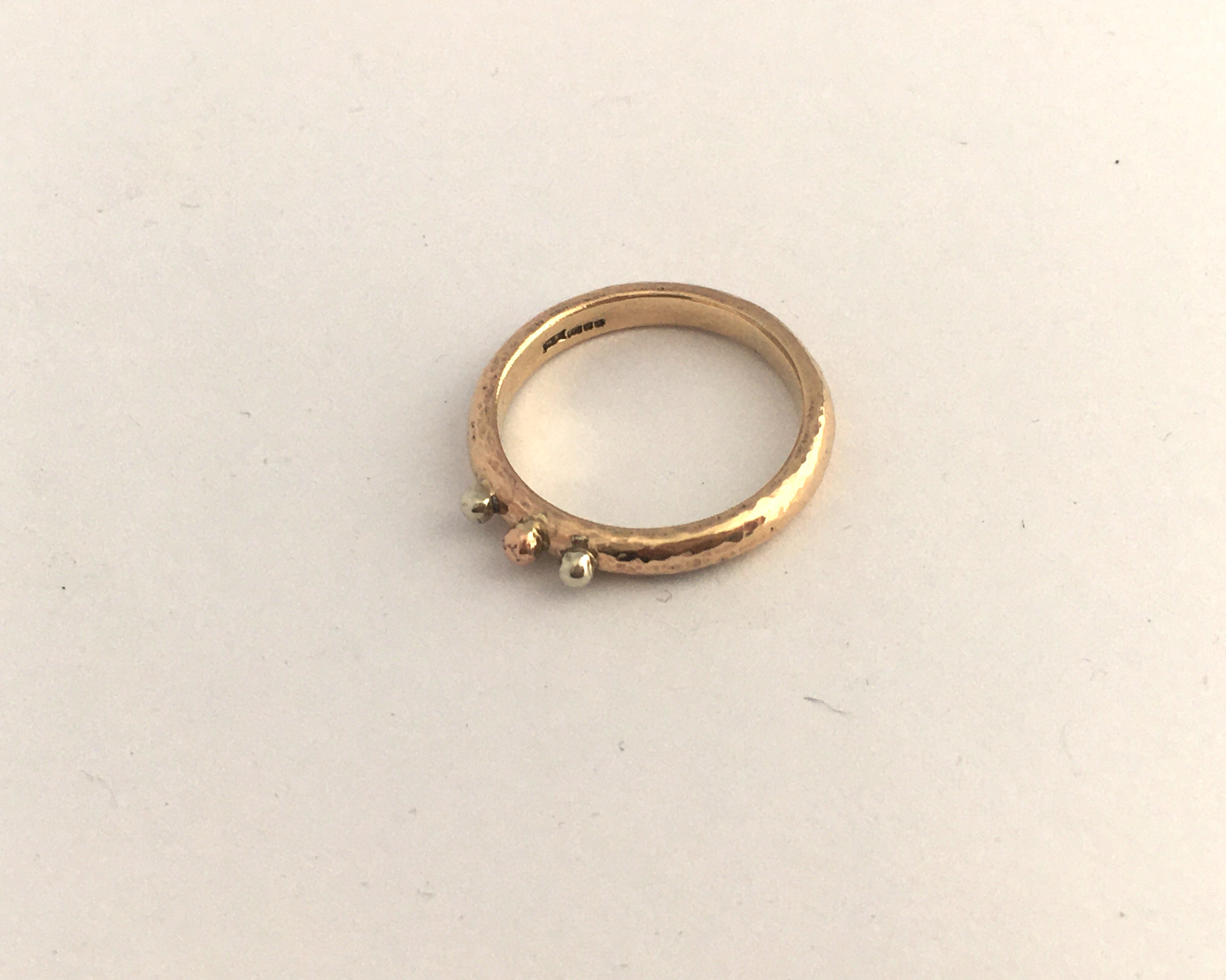 Three colour gold ring - To order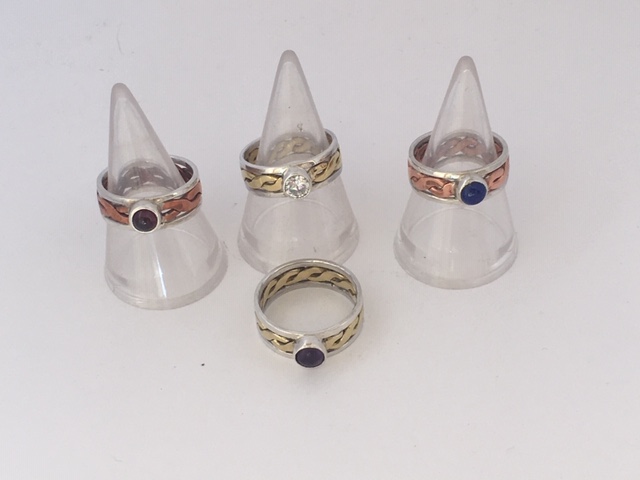 Stone set silvercopper/brass twist rings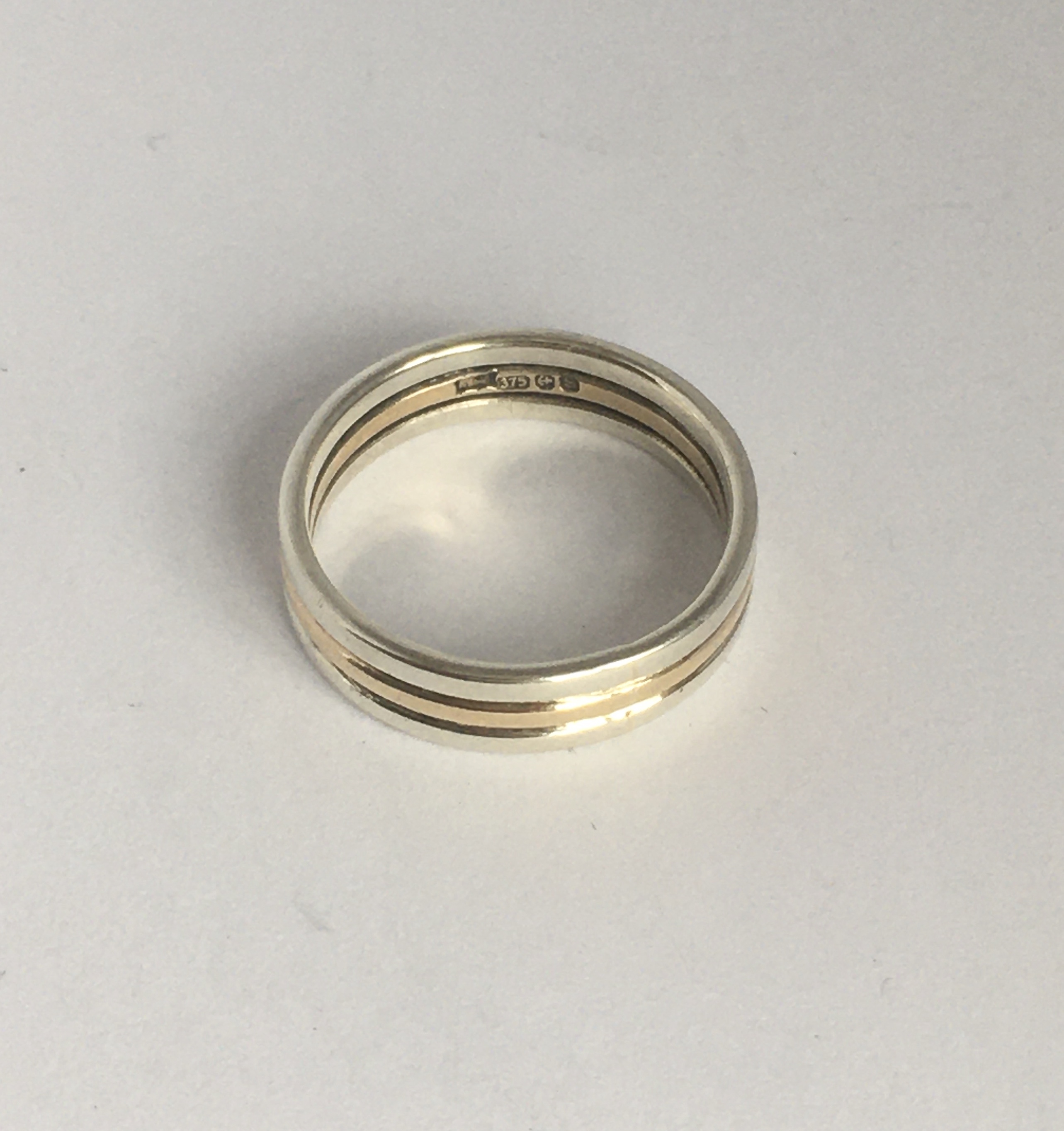 Banded gold ring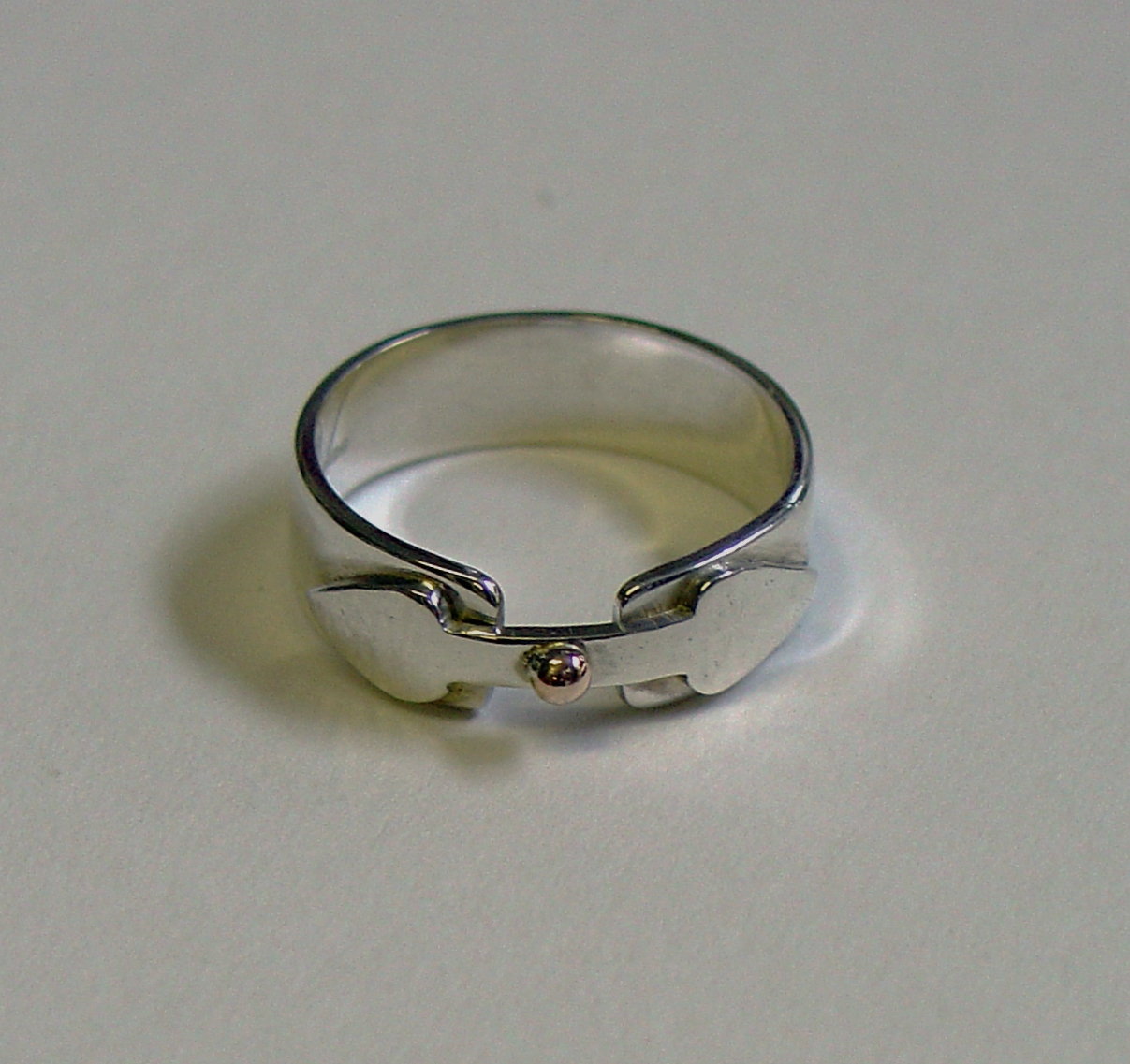 Silver and gold ring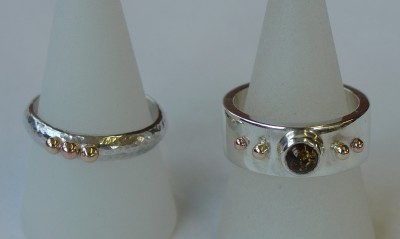 Silver, gold and amber rings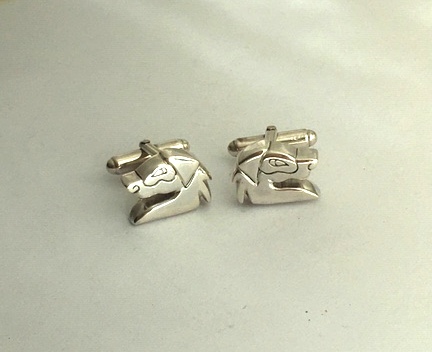 One off cast dog head cufflinks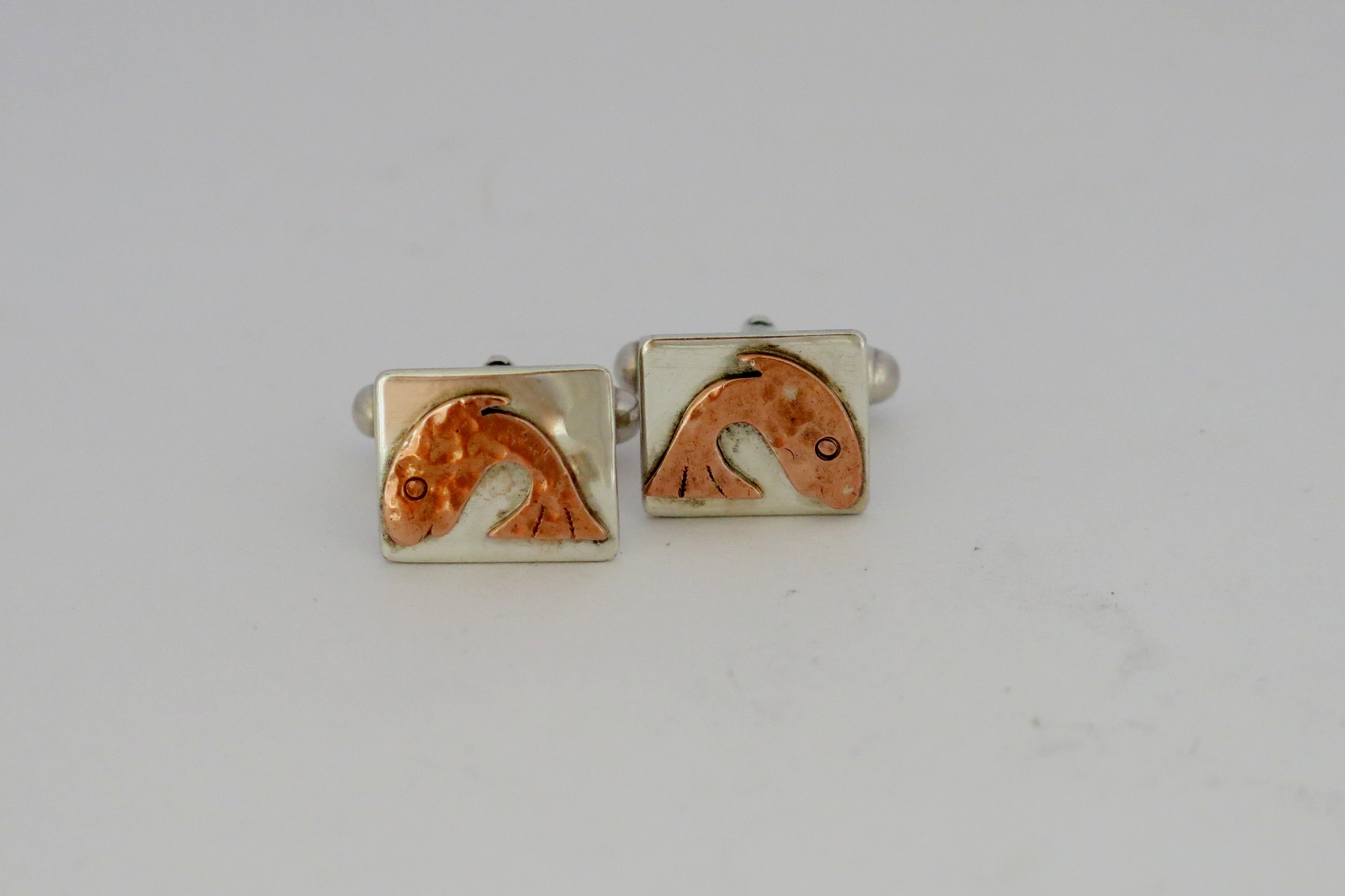 Copper leaping fish cufflinks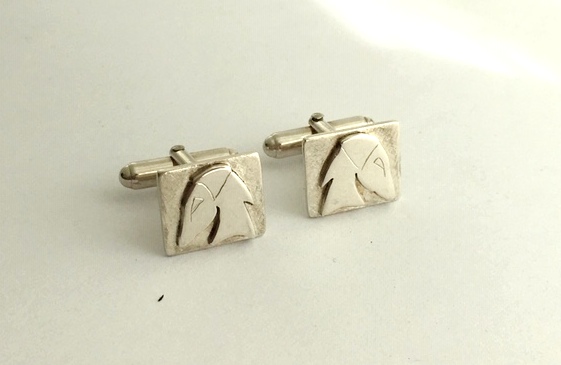 Silver Dog heads cufflinks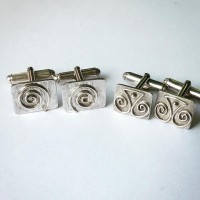 Silver cufflinks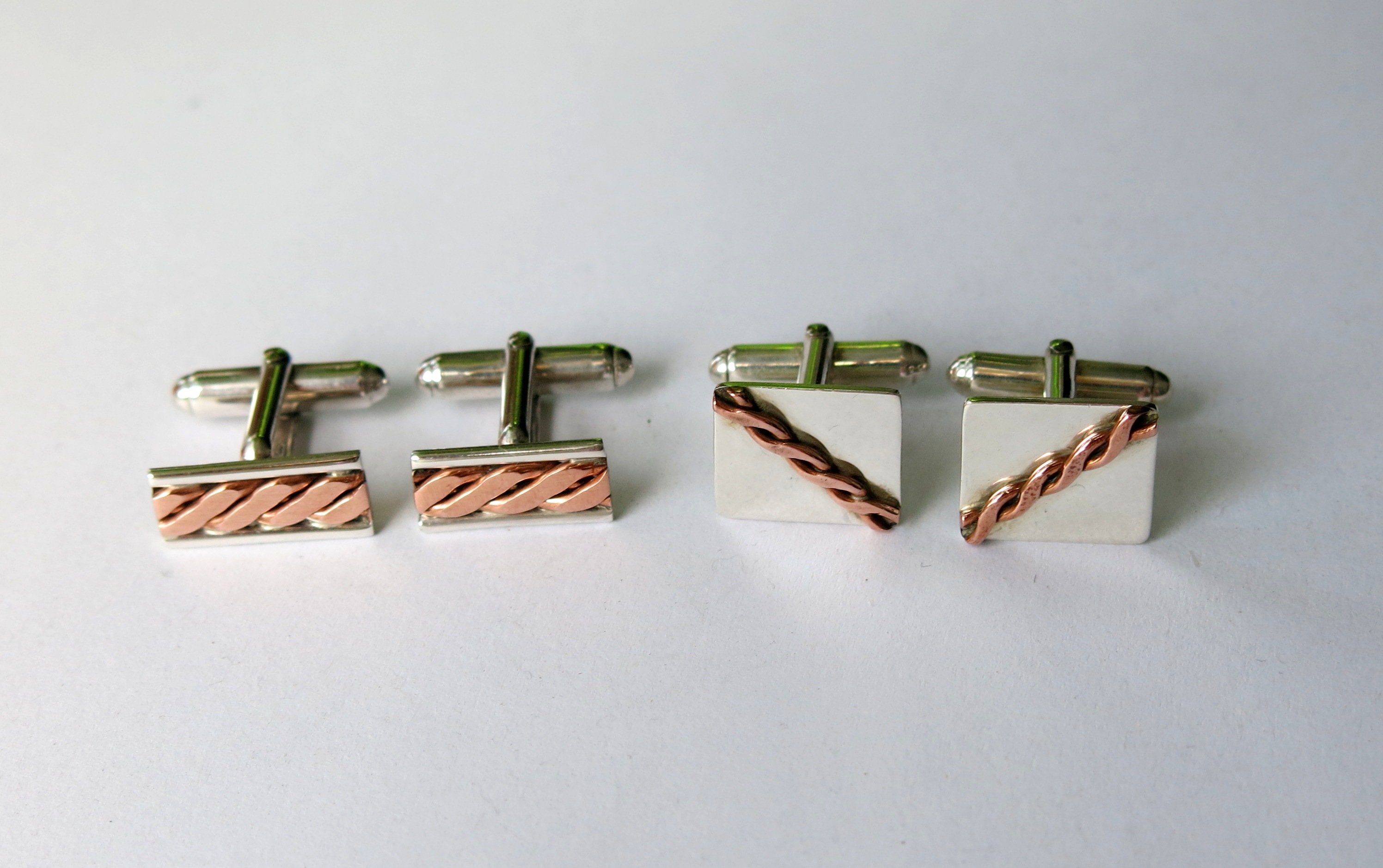 Silver and copper twist cufflinks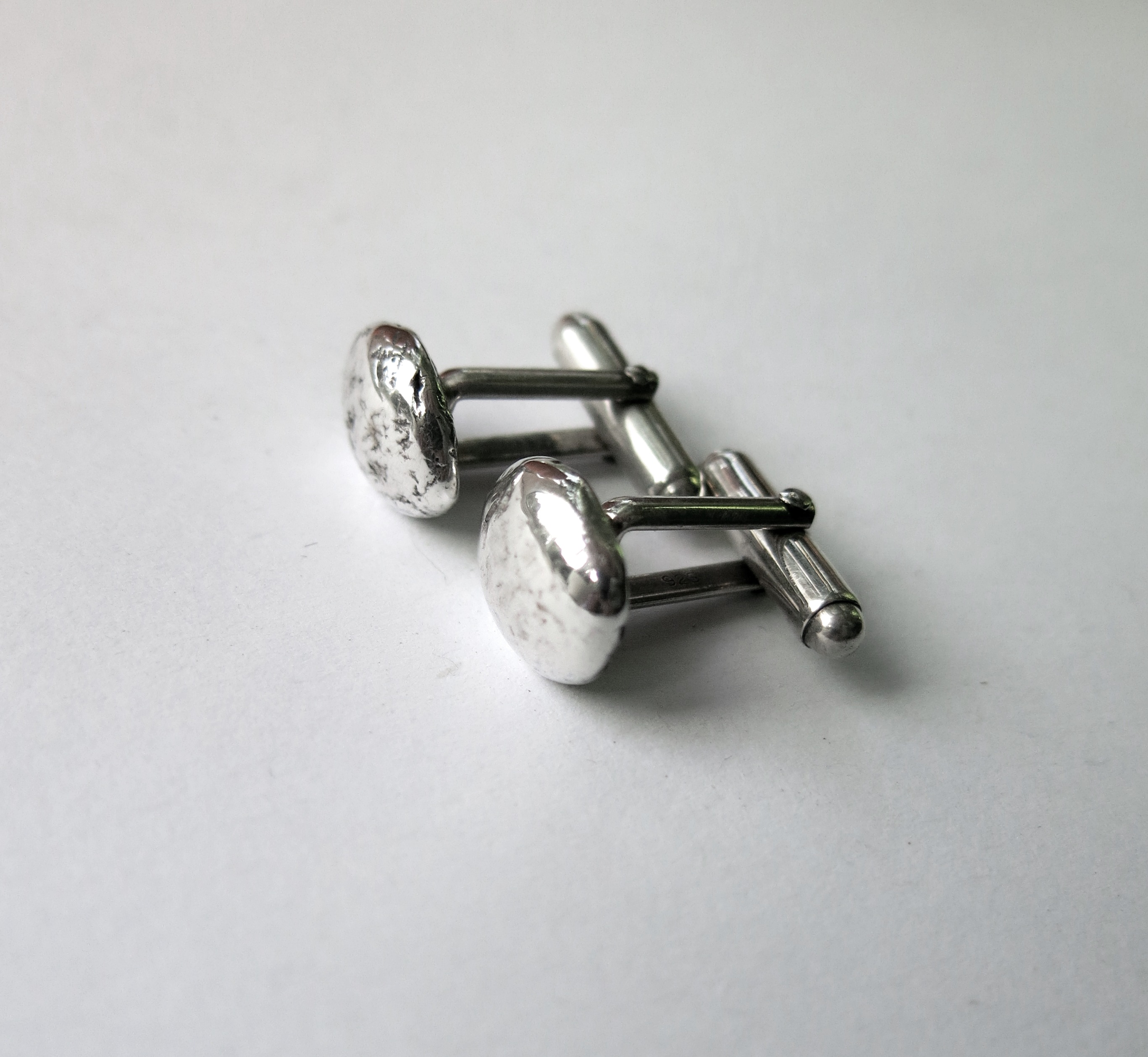 Silver nugget cufflinks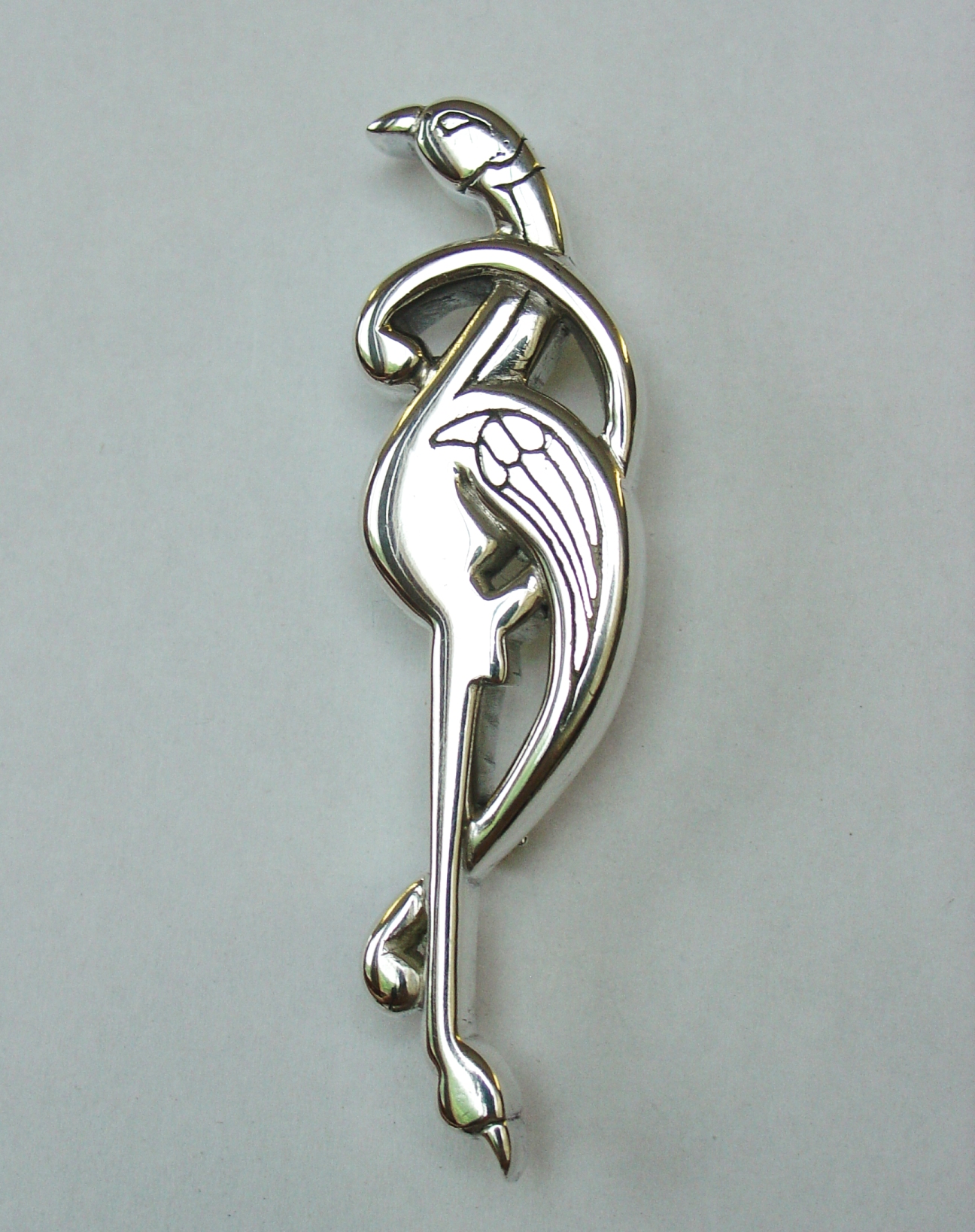 Bird brooch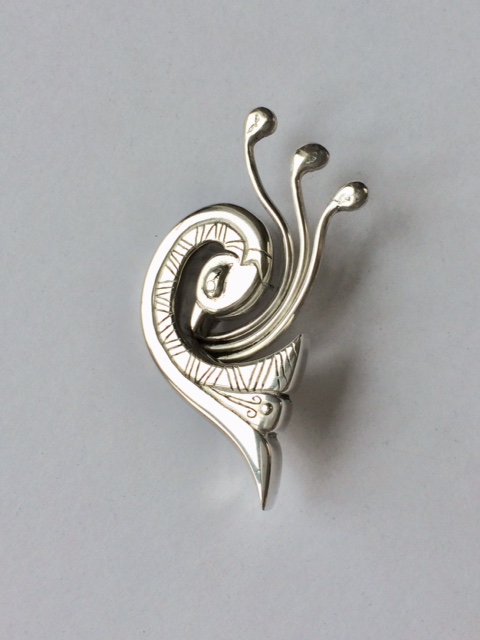 Silver bird brooch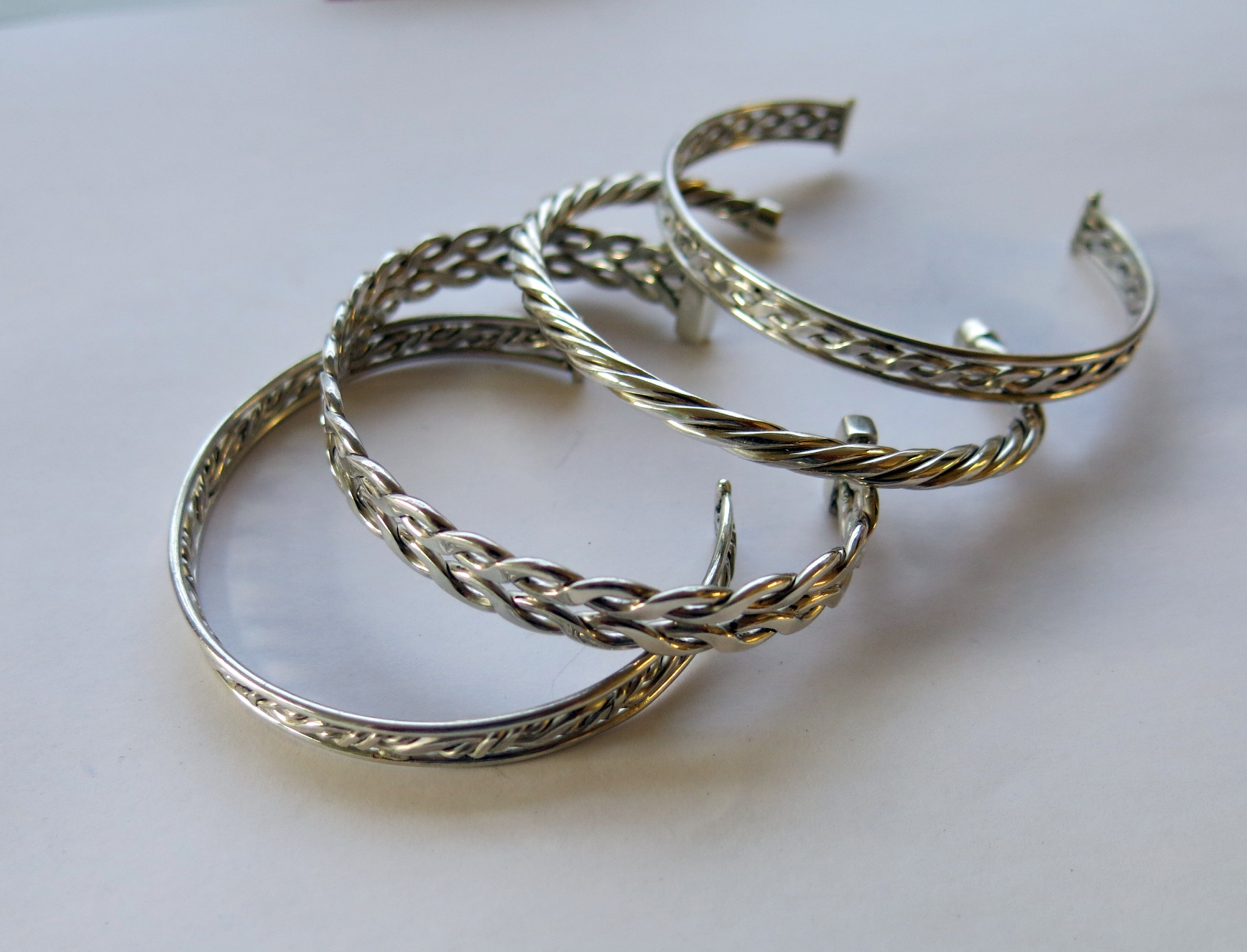 Silver bangles
Silver and brass fish bangle (Silver with brass fish to order)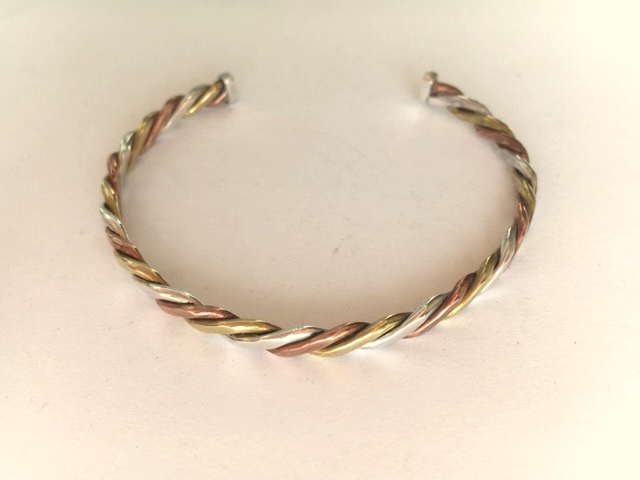 Silver, copper and brass twist bangle.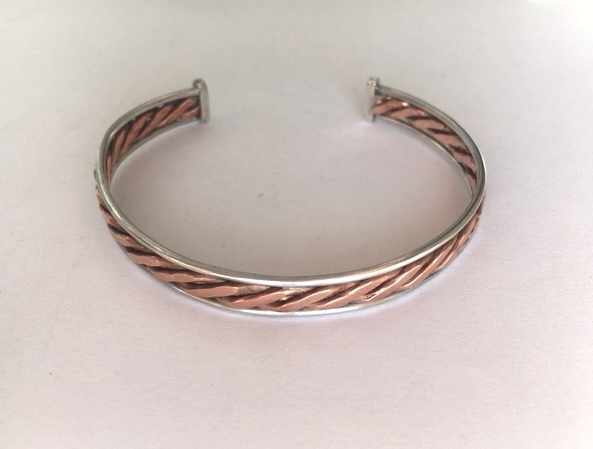 Silver and copper twist bangle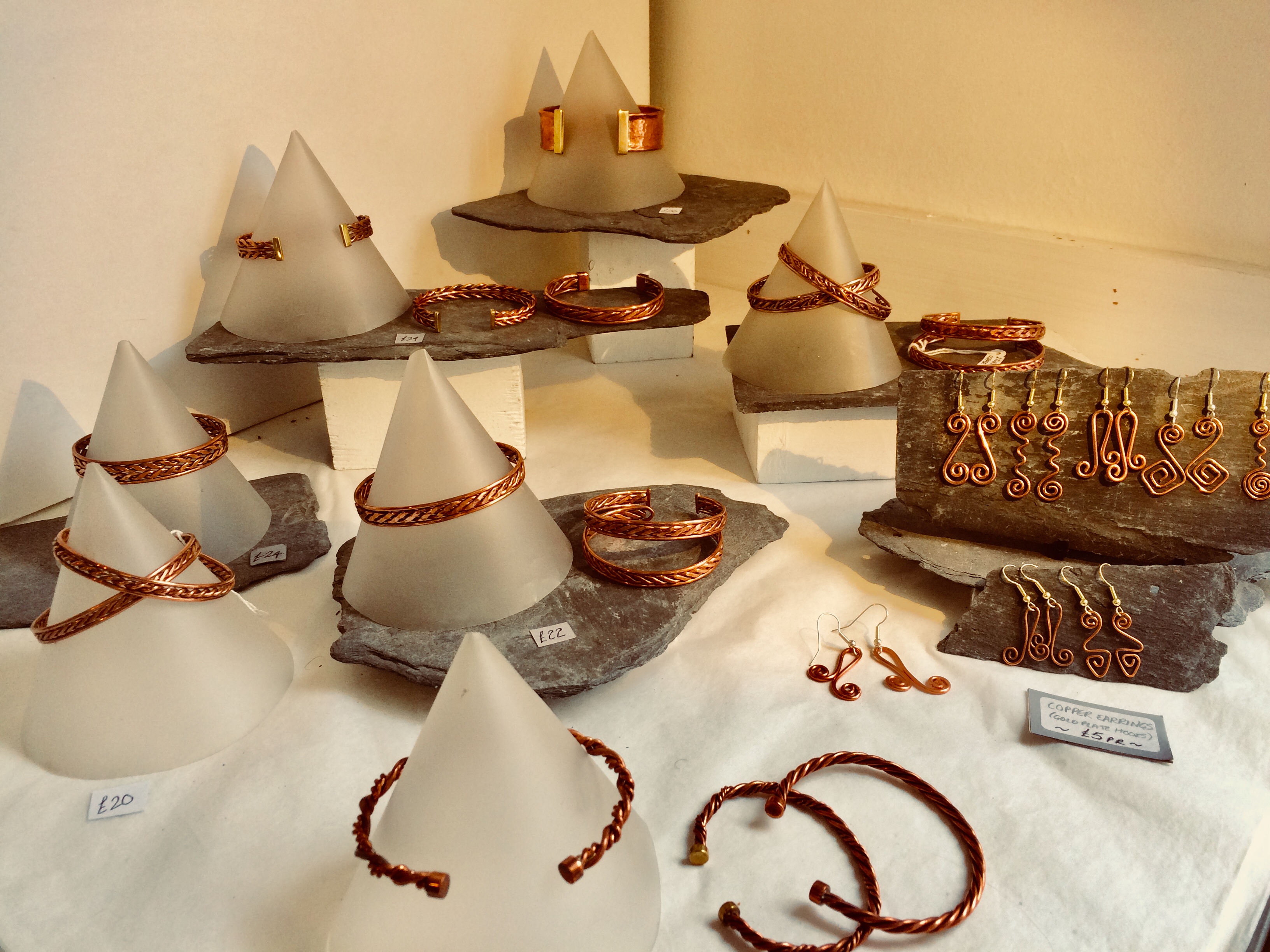 Copper bangles
Bird head pendant with malachite

This fluid one off silver wire pendant with double bird heads is set with a 5mm round malachite and hangs on a silver snake chain. Hallmarked and ready to fly off to a new home. £145

Fierce Beast - Limited Edition

Cast in solid sterling silver, this impressive beast is one of a new range of limited edition cast pieces with only 25 in the edition. Hallmarked and engraved with the edition number on the back. £98

Boar Pendant - Limited Edition

Cast in solid sterling silver, this fine little fella is one of a new range of limited edition cast pieces with only 25 in the edition. Hallmarked and engraved with the edition number on the back. £110

Dog pendant -SOLD

One off original cast solid silver dog pendant with raised paw, with silver wire detail. On 16" snake chain. Approx 50mm long x 25mm across.

Large cast horses heads neckpiece with garnet - SOLD

One-off, cast solid silver neckpiece with facing horses heads, set with 8mm cabochon garnet, on flat snake chain (5mm wide) 16" long (19" length inc horses). Approx 55mm x 30mm.

Large cast birds with garnet -SOLD

One-off solid silver cast double birds neckpiece with silver wire detail, set with 8mm garnet. 16" silver snake chain (2mm round) plus approx 2 1/2" across to end of wire terminals. Cast piece approx 45mm wide x 50mm long. Hallmarked.

Silver pendant with garnet

Chunky one-off cast silver pendant with knot work design, set with three garnets. On snake chain through tubing at back to allow pendant to move on chain. £240

Silver and copper fish pendant with turquoise SOLD

Layered pendant with silver backing edged with copper and fine wire detail overlaid with two silver fish with copper detail. Finished with turquoise bead on chain. Approx 55mm long inc bead,25mm across. On 18"snake chain.Hallmarked.

Silver animals pendant

Silver animals with elongated ears! Silver sheet and wire with wire details and set with 8mm leopardskin agate cabachon. Approx 50mm wide x 50mm long on 16" snake chain (17 1/2" total inc width of pendant). £155

Dog heads pendant with Lapis Lazuli SOLD

Silver sheet and wire dogs heads pendant with wire detail, set with 7mm lapis lazuli cabachon. Approx 48mm long x 45mm wide, 16" silver snake chain + 1 1/4" between ears. Hallmarked.

Silver and copper cut out animal

Multi-layered silver and copper sheet, with cut out fierce animal in copper sheet over silver. Set with two 4mm garnets, hallmarked. Approx 35mm long x 27mm wide. 16" silver snake chain. £145

Wild beast with garnet pendant SOLD

Silver sheet and wire pendant with wild beast head and intertwined wire body, set with 5mm garnet. On 16"silver snake chain (17" all round including pendant width). One off design. £72 . Similar designs to order.

Silver pendant with black effect (to order)

Diamond shaped silver pendant with silver wire and ball detail, texturing and chemical blacking effect. Approx 18mm x 18mm, on 16" snake chain. £52

Silver pendant with copper detail (to order)

Diamond shaped silver pendant overlaid with copper wire spirals and silver sheet and balls. Approx 18mm x 18mm, on light 18" trace chain. £52

Square silver pendant (to order)

Silver pendant edged and decorated with silver wire and balls on textured background. Approx 12mm x 12mm, on 16" rope chain. £48

Silver nuggets with copper wire

Selection of solid silver nuggets with copper wire spiral detail. Average size approx 17mm x 12mm, on 16" or 18" snake chain. These nuggets have textured backs so can be worn either way round. They are not hallmarked to allow them to be reversible. £36 each. Plain silver nuggets are also available at £38 each.

Silver earrings inset with coloured resin

Selection of silver earrings with cut out designs filled with transparent resins - like little stained glass windows! On silver hooks, can be converted to stud or non-pierced fittings. Average size approx 30mm long. These earrings are not hallmarked. £55 pair. Pendants can be made to match.

Silver twisted wire rings

Selection of silver rings with 2 or 3 wire central twist, edged with silver wire. Three twist wide (left) approx 8mm wide, size X, three twist narrow (centre) approx 6mm wide, size T, both £58. 2 twist (right) approx 7mm wide, size O, £54. To order in any size. Also available in gold or with copper/brass central twist.

Silver and gold swirl ring

Wide silver band with 9ct yellow gold overlaid swirl design. Band approx 7mm wide. Ring size Q. Inc secondary gold hallmark. £17

9ct yellow and rose gold twist ring (to order)

Twisted 9ct rose gold wire edged with 9ct yellow gold wire. Approx 8mm wide. To order, approx £375 depending on size.

Three colour gold ring - To order

D-shaped textured finish band in 9ct yellow gold decorated with gold balls - central rose with white gold either side. Approx 2.5mm wide. Approx £260 depending on size

Stone set silvercopper/brass twist rings

Selection of 2 wire central twist rings edged with silver and set with various 5mm cabochon stones in silver settings. Stones include garnet, lapis lazuli, opal, amethyst, malachite and cubic zirconia. Range of sizes. £48 each

Banded gold ring

Three band 9ct gold ring with yellow central band and white outside bands. Approx 4mm wide, size L 1/2. (Can be resized) £275

Silver and gold ring

Silver band with stylized textured leaf design connecting band at front, gold ball detail. Made up to size to order. £62

Silver, gold and amber rings

Textured d-shape silver band with gold ball details in yellow and rose gold, 4mm wide, size P, £72 Wide silver band set with central 5mm cabochon amber with rose and yellow gold balls either side. 9mm wide, size P1/2, £82

One off cast dog head cufflinks

One off design of cast dog heads cufflinks in solid sterling silver. Approx 17mm x 12mm x 5mm thick, on hinged bar fitting. £125

Copper leaping fish cufflinks

Textured copper fish cufflinks overlaid on silver background. Approx 15mm x 12mm with hinged bar cufflink fitting. £72pr.

Silver Dog heads cufflinks

Silver cufflinks with overlaid dog head detail.Textured background with polished heads. On silver hinged bar fitting. Approx 15mm x 12mm. £78 pr.

Silver cufflinks

Silver cufflinks with silver wire detail on textured background. Hinged bar fittings. Approx 15mm x 11mm. £74 a pair

Silver and copper twist cufflinks

Cufflinks with central copper twist edged with silver wire (left), approx 16mm x 8mm (only bar fitting is hallmarked with 925 stamp) £55 Silver cufflinks with diagonal copper twist overlay (right), approx 15mm x 12mm, hinged silver bar fitting. £65

Silver nugget cufflinks

Solid silver nugget cufflinks created from free-form molten silver so each nugget is different. Also available as pendants with snake chain. These nuggets are not hallmarked due to the textured backs but hinged silver bar fitting has 925 stamp. Approx 14mm x 12mm £65

Bird brooch

Elegant standing bird brooch, one-off cast in sterling silver with fastening brooch pin on back. Approx 70mm long x 20mm across, 45mm pin. Hallmarked. £250.

Silver bird brooch

One-off cast solid silver bird brooch with wire plumes. Brooch pin fastening on back. Approx 60mm long x 30mm across, 28mm pin. Hallmarked. £240 .

Silver bangles

Selection of silver bangles in twisted wire. Some bangles are left rounded and some hammered to give a plaited effect. Bangles can be made up in different sizes and can incorporate copper, brass or gold to order. From £62 Left to right - 2x1 flat twist bangle, edged - £110 2x2 flat twist, centre band, not edged - £135 4 twist rounded bangle, ball ends - £110 2 twist flat, thick wire, edged, brass ends - £120 All hallmarked.

Silver and brass fish bangle (Silver with brass fish to order)

Solid silver bangles with overlaid swimming fish and wire detail . Brass fish with silver wave design on silver band. Individually handcrafted showing how differently the same design can look when finished :-) Both approx 6" round, open back, 10mm wide, 1.2mm sheet for extra strength. Fully hallmarked. £175 each. Similar designs with bird and horse designs.

Silver, copper and brass twist bangle.

Flattened 3 twist wire bangle, silver, copper and brass, with solid silver rectangular ends. Approx 6 1/4" round, 5mm wide. £68 (**Not hallmarked**)

Silver and copper twist bangle

Flattened three twist copper bangle edged with rounded silver wire. Solid silver rectangular bar ends. Approx 6 1/4" round, 7mm wide. £75 (**not hallmarked**)

Copper bangles

Wide selection of copper bangles in twisted wire and tube. Made up to size to order, average size approx 6" round. From £20- £26. Copper wire earrings on silver or gold plated ear wires £8. Please message if you would like to see current stock of either :-)